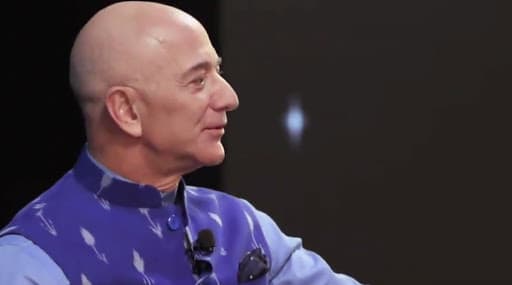 New Delhi, January 16: Amazon CEO Jeff Bezos is unlikely to meet PM Narendra Modi this time during his India visit. According to an Economic Times report, it was communicated to Amazon last month itself. Bezos arrived in the national capital on Tuesday for a three-day official trip. He kicked off the event called 'Amazon SMBhav' in Delhi.
From paying tribute to Mahatma Gandhi to flying kites with kids on the occasion of Makar Sankranti and donning an Indian attire, Bezos kept his focus on Indianess during his visit to the country.  Bezos on Wednesday announced that the e-commerce major will be investing USD 1 billion, which is over Rs 7,000 crore in digitising small and medium businesses in India. He was quoted saying, " 25 years ago Amazon was an SMB. Today we are announcing that we are going to invest $1 billion in digitising SMBs."
He further announced that the company will use its global footprint to export USD 10 billion worth of Make In India goods by 2025. Jeff Bezos India Visit: Several Small Traders Across 300 Cities Plan Protests Against Amazon Over Discount.
Several small traders across 300 cities have planned protests, claiming the e-commerce giant has affected the local retail market on the occasion of Bezos' visit. On Monday, Competition Commission of India (CCI) issued an order mentioning that Flipkart and Amazon will be probed over their deep discounting practices, exclusive brand launches and preferential treatment which they have allegedly offered to certain mobile phone sellers.