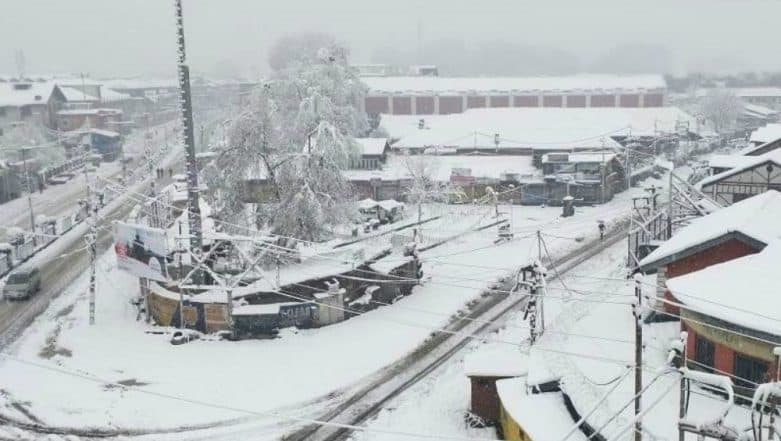 Jammu, January 17: Parts of Kashmir Valley have been receiving heavy snowfall since a week, leading to the closure of the Srinagar-Jammu national highway. Flight and train services in Jammu and Kashmir have been severely hit due to poor visibility. According to details by the weather department, the Valley is all set to receive another spell of snow from January 19 to 23 due to heavy precipitation. In the wake of the changing weather conditions, the MeT department has advised people to plan their travel accordingly and to stock up essentials. Intermittent Snowfall in Kashmir, Flight Operations Hit at Srinagar Airport.
In the wake of the current weather conditions, Divisional Commissioner (Kashmir), Baseer Ahmad Khan issued a fresh avalanche warning for nine avalanche prone districts. The places include Anantnag, Kulgam, Budgam, Baramulla, Kupwara, Bandipora, Ganderbal, Kargil and Leh districts. Taking stock of the situation, the Jammu and Kashmir Police tweeted saying, "On 17.01.2019 Mughal Road/Srinagar-Kargil Road continuously closed due to snow accumulation". Kashmir Witnesses First Snowfall of 2019, Kargil Coldest at -17 Degree Celsius.
On 17.01.2019 Mughal Road/Srinagar-Kargil Road continuously closed due to snow accumulation @JmuKmrPolice

— J&K Traffic Police (@Traffic_hqrs) January 16, 2019
On Wednesday, Pahalgam, a famous tourist resort, which also serves as one of the base camps for the annual Amarnath Yatra, recorded 3 cm of fresh snowfall. The Kashmir Valley is currently under the grip of 'Chillai-Kalan' – the 40-day severe period of winter. Meteorological office Director, Sonam Lotus advised people to keep a proper stock of eatables besides keeping their warm clothes and heating devices ready for days to come.
During this period, the chances of snowfall are most frequent and maximum and the temperature drops considerably. 'Chillai-Kalan' ends on January 31. The 40-day period is followed by a 20-day long 'Chillai-Khurd' (small cold) and a 10-day long 'Chillai-Bachha' (baby cold).