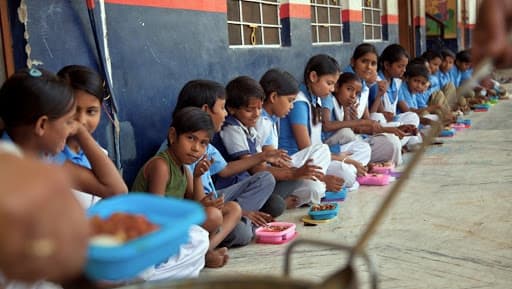 Kolkata, September 4: Days after the Mirzapur mid-day meal row, a new incident has been reported from Hooghly in West Bengal where students have been served puffed rice and fried snacks in a primary school in Howrah district on Monday and Tuesday. The incident took place merely 10 days after Chief Minister Mamata Banerjee directed the administration to ensure frugal but nutritious meals for the students. Salt and Roti For Midday Meal at Mirzapur School: Action Taken Against 'Print' Scribe As He Shot Video Instead of Taking Photo, Says UP District Magistrate
According to a report, published in the Hindustan Times, the incident took place took place at Jora Asshtotala Primary School of Bally, about 20 km away from Kolkata. In this primary school, about 100 students study. Following the report came into limelight, the opposition has attacked the Trinamool Congress government and stated that the situation in the state is worse than Uttar Pradesh.
The headmaster of the school too agreed that the food was not cooked on Tuesday. The principal of the primary school, Manas Chatterjee, said, "I was not present in the school on Monday. Food could not be cooked on Tuesday as there was some trouble with the gas oven. It has been sent for repair."
Meanwhile, the Bharatiya Janata Party attacked the ruling government. BJP leader Tushar Mukherjee said, "It has revealed the real picture of the midday meals in the state. A mockery is continuing in the name of nutritious food. Our chief minister is saying something else and the administration is trying to hide the real picture."  'Salt and Roti' For Midday Meal at Mirzapur School: Editors Guild of India Says 'Don't Shoot the Messenger' After UP Govt Files FIR Against Journo.
Earlier in Mirzapur, a journalist Pawan Jaiswal was arrested by the Uttar Pradesh police for shooting the video showing school children being served salt and roti as a midday meal. Soon after this, massive protests were observed in the state and outside.