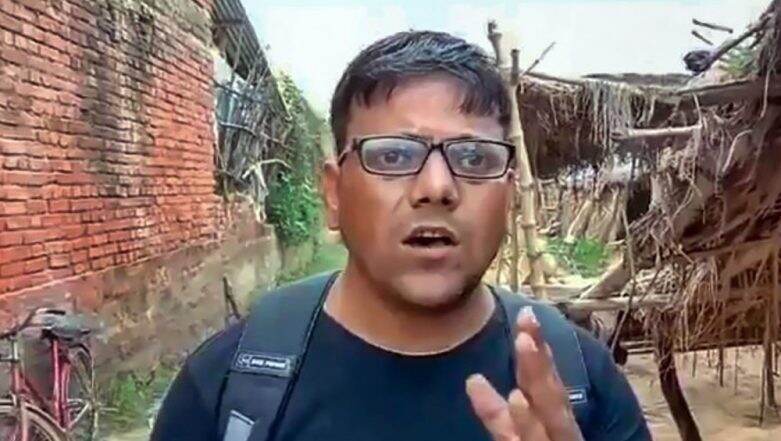 Lucknow, September 4: Days after arresting journalist Pawan Jaiswal for shooting the video showing school children being served salt and roti as midday meal, the Mirzapur District Magistrate offered bizarre explanation to justify the arrest of the journalist. DM Anurag Patel reportedly said that the journalist's "role appeared to be suspicious" as he could have taken photos and printed about the incident, instead of posting a video, reported The Hindu. UP Police Books Journalist Who Shot Video of Namak-Roti Being Served as Midday Meal in Mirzapur School.
Mirzapur District Magistrate Anurag Patel was quoted saying by The Hindu that, "You are a print media journalist, you could have taken photos. You could have printed whatever you found wrong, but he did not do so. That is why his role appeared to be suspicious." 'Salt and Roti' For Midday Meal at Mirzapur School: Editors Guild of India Says 'Don't Shoot the Messenger' After UP Govt Files FIR Against Journo.
The Uttar Pradesh government on Monday came under fire from the Editors Guild of India after reports said that journalist Pawan Jaiswal was booked under criminal laws and an FIR registered against him. Jaiswal's report about students being fed rotis with salt instead of vegetable in a government school named Siyur primary school in Mirzapur district under the midday meal brought considerable criticism as people demanded answers on the incident. Watch Video of Students Being Served Roti-Namak as Mid-Day Meal in Mirzapur.
"It is a cruel and classic case of shooting the messenger. It is precisely exposé such as these that show how valuable free and fearless journalists are to a democratic society," said the Guild.
A video of children being served rotis and salt in their midday meal at Siyur Primary School under Jamalpur block of Mirzapur went viral on social media. The clip purportedly showed a woman distributing rotis and another woman giving salt to children as the midday meal. Authorities have suspended two teachers, apparently in an immediate damage-control exercise, reported PTI.