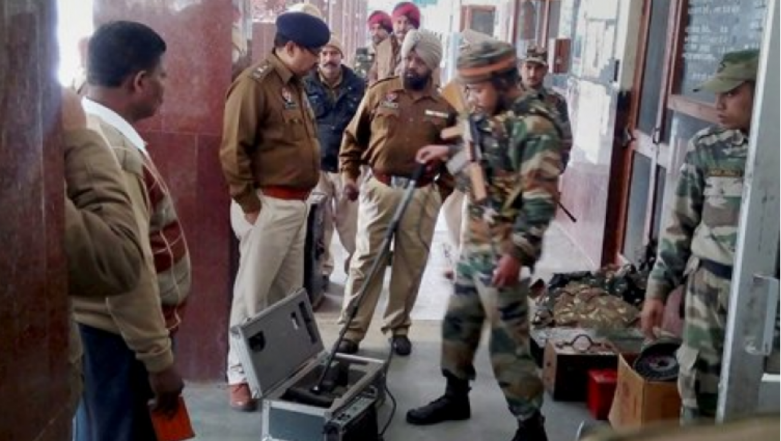 Mumbai, March 2: Security has been heightened while police has been kept on high alert across all railway stations of Western Railway in Maharashtra, Gujarat and Madhya Pradesh after intelligence inputs on the possibility of a deadly terror attack. According to reports, the Western Railway (WR) has sounded an overall alert at all its stations in three states after intelligence inputs from Gujarat on the possibility of a deadly terror attack. Security has been beefed up across the city as part of confidence-building measures undertaken by the state government in the wake of the Indian Air Force (IAF) surgical strikes across the Line of Control (LoC) on Tuesday. Indian Air Force Puts All Air Defence Systems on High Alert After Striking Terror Camps Across LoC. 
According to a report by TOI, the inspector general's (Railway Protection Force) office told security agencies at all stations of Western Railways to keep a close watch on long-distance trains, especially the ones plying to and from Jammu. The report further informs that a letter was sent by the IG's (RPF) office in Churchgate to heads of RPF in Mumbai, Vadodara, Ahmedabad, Ratlam, Rajkot and Bhavnagar on February 22. Surgical Strike 2: Indian Air Force Strikes JeM Camps in Pakistan Days After Pulwama Attack, Pak Officials Cry Intrusion.
In the letter, it was stated that after the Pulwama attack, intelligence inputs were communicated by state railway police from Gujarat on the possibility of multiple blasts in public places. The areas on target including railway stations, temples and the iconic Statue of Unity. Moreover, the inputs stated that the attack would be headed by a person from Hyderabad, also involved in the Pulwama attack, with allegiance to Jaish-e-Muhammed (JeM). 'Highest Alert' in Delhi, Mumbai and 5 Other Cities; Security Increased at Defence Installations.
Random frisking of commuters and baggage checks are jointly being conducted by RPF and GRP. Chief PRO Ravindra Bhakar, WR (RPF) was quoted in the report saying that in view of the security alert, Western Railway RPF had a co-ordination meeting with Mumbai GRP officers on February 27 and with the GRP commissioner on February 28 to discuss coordinated action required on trains and railway premises. "All posts have been alerted and directed to take preventive measures in co-ordination with GRP and city police," he said.