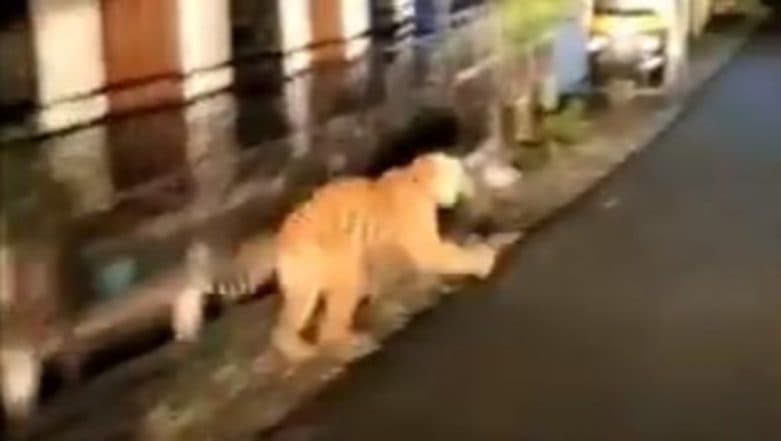 Nanital, September 8: Residents living near Uttarakhand's Jim Corbett park were in shock after a tiger was spotted in the area. The wild animals often find themselves in the human-dominated landscapes due to heavy encroaching of wildlife corridors. In the clip, a tiger can be seen in the residential area. The feline fled from the spot after a car came in front of the animal. Tiger Found Dead in Ratapani Wildlife Sanctuary of Madhya Pradesh With Paws Chopped.
As the population is expanding, humans are venturing into the wild territories and the wild animals are displaced. Reduction in the availability in the natural prey and food often leads wild animals to foray into the human landscapes. Leopard Mortality Rate 2018 in India Recorded at 460, Highest in Last 4 Years; Says Wildlife Protection Society of India.
Tiger ventures into a residential area near Corbett:
Due to heavily encroached wildlife corridors wild animals, in search of their traditional migratory routes, often find themselves in human dominated landscapes. What follows is human created chaos and the oft discussed 'Human Wildlife Conflict'.

(Late last night near Corbett). pic.twitter.com/AbnywvmIzv

— SAKET (@Saket_Badola) September 8, 2019
Over the years, the human-wildlife conflict has been on a rise due to deforestation and wild space shrinking. According to a data of Union environment ministry, over 1,600 humans were killed in conflict cases involving tigers, bears, leopards and elephants between 2013 and 2017.
The data was sourced from 23 states that recorded such conflicts. The list does not include conflicts with monkeys, nilgai and wild boars. Meanwhile, there is no data on the number of animals killed by humans.