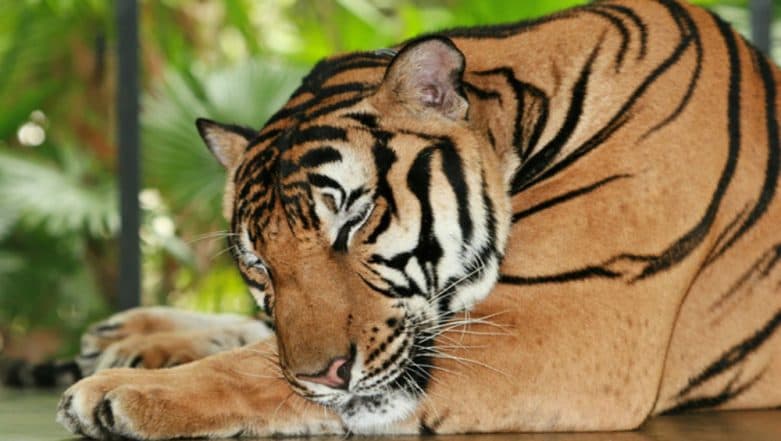 Tiger deaths in central Indian states, Maharashtra and Madhya Pradesh over the last eight years is only increasing. Experts revealed that between 2009 and 2017, 631 tigers were reported dead in India. And in the past one and a half years, Madhya Pradesh alone recorded 80 deaths of the national animal. At recent, an adult tiger was reportedly found dead near Ratapani Wildlife Sanctuary in Raisen district of the state. Two front paws were chopped off, making it a horrific incident. Its death takes 2018 tiger death toll to 22 in the state, raising the urgency to increase awareness and save the wild cats. Man-eater Tigress Avni, Alleged For 14 Deaths, Killed In Maharashtra's Yavatmal. 
According to TOI, the chief wildlife warden Shahbaz Ahmad, it could be a case of poaching based on initial information received from the field staff. The officer was quoted in the media outlet as saying, "We are waiting for post mortem report to ascertain the cause of death." Tigers' paws are poached for its skin and fangs, and hence, the officers suspect a case of poaching. The experts believe that the tiger must have died four to five days ago. Its samples were sent for forensic examination, and the report is still awaited. This is the second similar incident in the same region where a dead tiger with severed paws was found. Tigress Mauls Elderly Man in Dudhwa Tiger Reserve, Angry Villagers Crush Her to Death Under Tractor. 
The increasing deaths of tigers is a serious concern across the world. Reasons for the death of wild cats have ranged from electrocution, poaching, poisoning, infighting, natural deaths, human-tiger conflict to rail or road accidents. Death of Tigress Avni in Maharashtra is another recent example. Even after massive online petitions seeking the state government not to kill her, we could not save Tigress Avni, raising concerns about India's Tiger conservation policy.