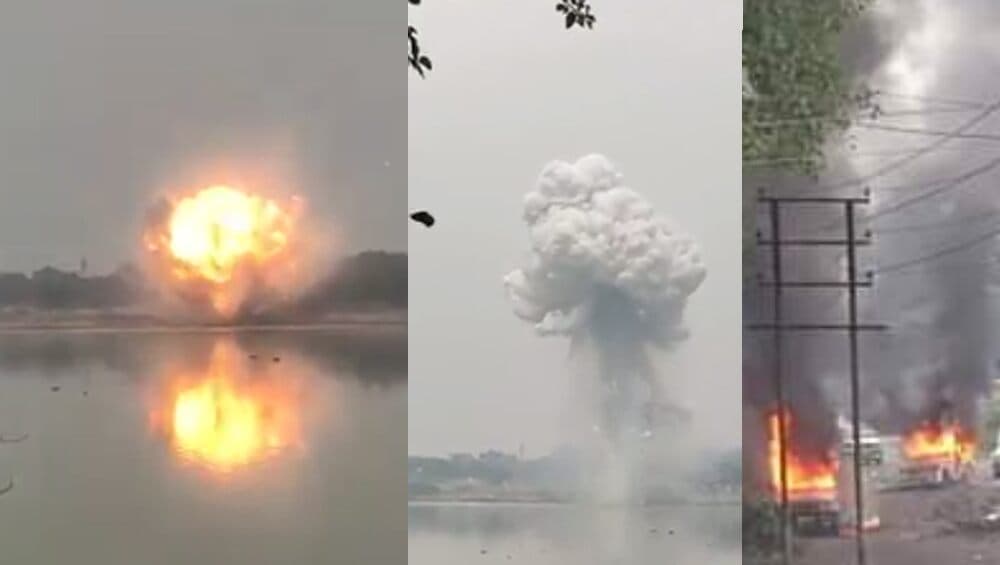 Kolkata, January 9: Less than a week after an explosion rocked a firecracker factory in West Bengal's Naihati, another blast was reported from the same region on Thursday. Preliminary reports have confirmed that the fresh blast also emanated from a firecracker unit in the locality, based in North 24 Parganas district. Scores of fire tenders were rushed to the spot to douse of the flames. Five Killed in Blast in Bengal Last Week.
Several houses located in the vicinity were damaged due to the impact of explosion. Two police vehicles, stationed close to the site of explosion, were also caught ablaze. The residential premises suffered cracks in walls and breaking up of windows. The impact was felt as far as ward numbers 12 and 13 in the Chunchda nagarpalika.
Watch Video of Site of Explosion
Check Visuals Below
The police officials who reached Naihati after the blast were subjected to protests from locals. The locals demonstrated against the alleged inaction adopted by police firecracker units based in the region who are not adhering to the safety norms. After appeal by the Chandannagar Police, the locals ended their demonstration.