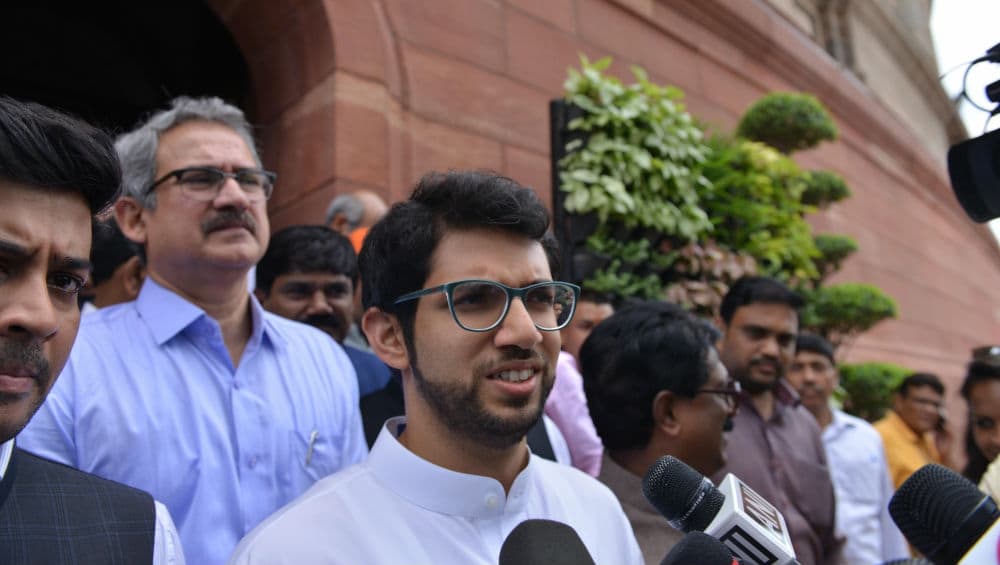 Mumbai, November 28: Maharashtra Chief Minister-designate Uddhav Thackeray's son Aaditya Thackeray is unlikely to get a berth in the State Cabinet, reports said ahead of the swearing-in on Thursday. Speculations are rife that the 29-year-old could be appointed by Shiv Sena as "shadow CM" -- a post which would allow him to head the party's internal think tank on governance. Mumbai's Shivaji Park Prepped Up For Uddhav Thackeray's Swearing-In.
Ahead of the elections, there was a considerable chorus within the party ranks to project Aaditya as the chief ministerial candidate. He was being referred to as the first man of the Thackeray political clan to occupy the CM chair. Among those who reiterated the pitch was Shiv Sena's most vocal leader Sanjay Raut.
Post the elections, however, Aaditya's father and Sena supremo Bal Thackeray's son Uddhav Thackeray has emerged as the next Chief Minister of Maharashtra. The possibility of Aaditya - a first time legislator - being inducted into the Cabinet was bleak as the Council of Ministers is being divided among three electorally strong parties.
A Sena functionary, while speaking to TOI, said Aaditya could be heading a top party panel which would be advising the Sena-led government on crucial issues. The "shadow CM" post, as he described it, would allow the Thackeray scion to closely introspect on governance issues, while also giving him the flexibility of strengthening the party at organisational level.
Notably, the post-poll pact inked between the Congress, Shiv Sena and NCP is to divide the 42 ministerial berths among themselves in the ratio of 12:16:15. The maximum has been assigned to Sena, which has 56 legislators, followed by 15 ministerial berths for NCP and 12 for Congress.