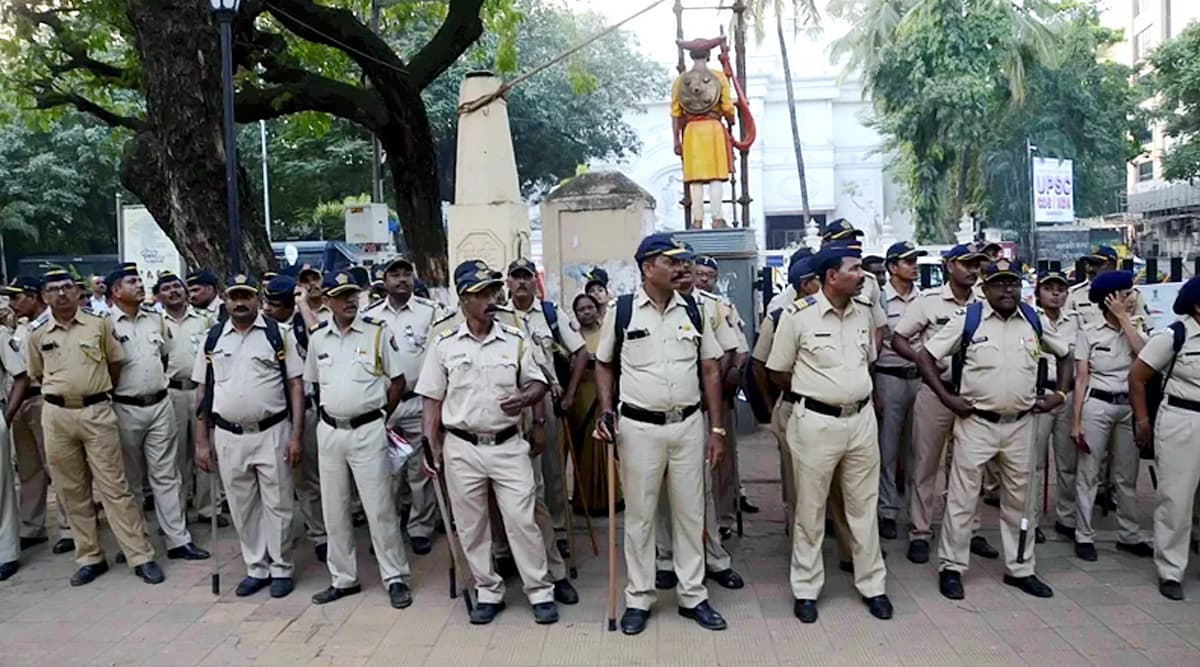 Mumbai, November 28: The Mumbai Police on Thursday issued general suggestions and seating advisory for special dignitaries, political leaders, journalists, farmers and the public attending the swearing-in ceremony of Shiv Sena chief Uddhav Thackeray as well as the oath-taking ceremony of the Cabinet at Shivaji Park, Dadar today evening. Shiv Sena chief Uddhav Thackeray will be sworn-in as the chief minister of Maharashtra on Thursday, November 28. The Mumbai Police, in a tweet, instructed the dignatories and everyone attending the event about the parking facility and seating arrangement as well as the general instructions regarding the event. Uddhav Thackeray to Take Oath as Maharashtra CM at Iconic Shivaji Park Today, Swearing-In to Witness Historic Shiv Sena-NCP-Congress Bonhomie.
Uddhav is the first from the Thackeray family who will occupy the seat of the chief minister. Thackeray will take his oath as Maharashtra CM at 6.40 pm at Shivaji Park in Dadar. Uddhav Thackeray has invited a host of political leaders for his swearing-in ceremony. The invitees have been divided into categories for ease of seating arrangement and given passes of different colours. Maharashtra Government Formation: List of Probable Ministers From Shiv Sena, NCP and Congress.
Below is the Pass Arrangement For the Swearing-In Ceremony
1. White Pass for Citizens Attending the Swearing-in Ceremony
2. Green Pass Holders
3. Yellow Pass for Press and Journalists
4. Red Pass for Senior Politicians and MLAs
5. Pink Pass for Chiefs of Political Parties
6. Orange Pass for Farmers
Read Mumbai Police's Tweet Below
Dear Mumbaikars,

Please note the following advisory for all invitees to the Oath-Taking ceremony of Hon. CM, Maharashtra State at Shivaji Park Ground, Dadar, according to the invite pass issued :- pic.twitter.com/5OZYNg5nNe

— Mumbai Police (@MumbaiPolice) November 28, 2019
The political development came after BJP leader Devendra Fadnavis submitted his resignation as Chief Minister to the Governor on Tuesday as "the BJP fell short of the required number of MLAs to win the scheduled floor test". Supreme Court had asked the Fadnavis government to prove its majority in the 288-member Assembly before 5 pm on Wednesday.
However, Fadnavis resigned as the chief minister a day before the floor test and said that the BJP will play the role of Opposition in Maharashtra Assembly. After which, a joint meeting of the Congress, NCP and Shiv Sena MLAs took place and it was decided that Uddhav Thackeray will be the chief minister of the Maha Vikas Aghadi front in Maharashtra.