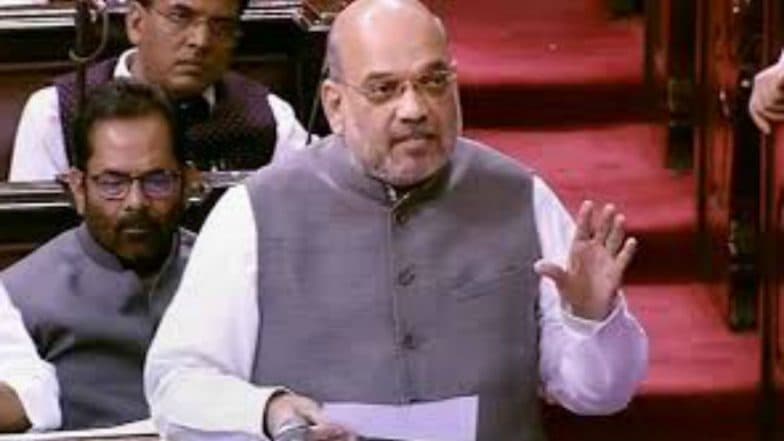 New Delhi, August 5: Home Minister Amit Shah on Monday presented the the Jammu and Kashmir Reorganisation Bill in the Rajya Sabha and proposed the scrapping of Article 370. The Home Minister said that Article 370 will be revoked and that the state of Jammu and Kashmir will be reorganised geographically. Amit Shah Calls Bill Scrapping Article 370 Historic.
However, Jammu and Kashmir will no longer be a state and instead will be a Union Territory with a legislature. Ladakh will be a separate Union territory.
What is Article 370?
Article 370 is basically the Article under which the succession  of Kashmir took place with the Indian state. It states terms and conditions under which Jammu and Kashmir is a part of India.
With the exception of Defence, Finance, Foreign Affairs and Means of Communications, the Parliament of India, where legislation is made, needs the nod of Jammu and Kashmir government for implementing any law in the state of Jammu and Kashmir.
Article 370 gives the people of Jammu and Kashmir the right to own property, citizenship and grants fundamental rights and citizenship to the residents of the state. These are separate from the rights enjoyed or exercised from the residents living in the rest of India. One of the highly contested provisions from the Article says that citizens from other states cannot buy property in Jammu & Kashmir, something that the citizens in other states and BJP has repeatedly objected to.
Also, Article 370 says that the Centre has no authority to declare financial emergency in the state. Article 370 mentions that Article 1 of the Constitution applies to Kashmir. Article 1 mentions the lists of states that falls in the Indian Union. Therefore, it is Article 370 which binds the state of Jammu and Kashmir to India. However, Article 370 can be cancelled through Presidential Order.
The Article was included in the Constitution of India on October 17, 1949, and the Article 370 exempts Jammu and Kashmir from the Indian Constitution. It empowers the state to its own powers.
The erstwhile ruler of Jammu and Kashmir, Raja Hari Singh, had initially decided to remain independent. Hari Singh had signed temporary agreements with both India and Pakistan. And before India, it was Pakistan who signed the agreement. However, after an attack and invasion from tribesmen and Army men in from Pakistan, Raja Hari Singh sought the help of India. In return, the Indian state put the condition of the accession of Kashmir to India. The Instrument of Accession was signed on October 26, 1947 by Hari Singh who signed it.