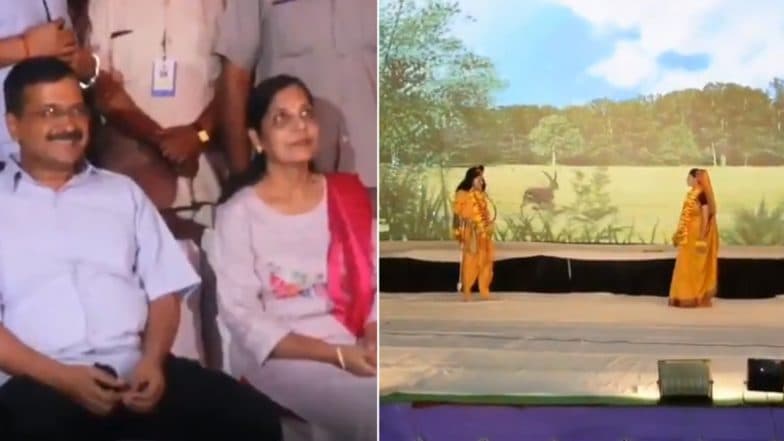 New Delhi, October 7: Delhi chief minister Arvind Kejriwal on Saturday attended the Ramleela event in Jhilmil colony, Delhi. The chief minister attended the Ramleela with his wife Sunita Kejriwal. A video shared by the Aam Aadmi Party (AAM) on Twitter shows the Delhi chief minister and party head watching Ramleela. Arvind Kejriwal also had a message for the parents after he watched the Ramleela. Dirty People Have Left AAP, Party Is United and As Strong As Ever, Says Delhi CM Arvind Kejriwal.
Kejriwal, talking to the media after watching the Ramleela, said that all the parents must bring along their children to watch the Ramleela. Calling it apni sanskriti (our tradition), Kejriwal said that there is a lot to learn from Lord Ram and the children can pick up important lessons from the life of Lord Ram. Arvind Kejriwal: Delhi People Consider Their CM Honest, Can Same be Said for PM Narendra Modi?
The chief minister said that there were quite a number of festivals coming up in the days ahead even as the Navratri is underway. The Aam Aadmi Party (AAP) chief wished everyone a happy Diwali and goodluck for the festivals.
Read the Tweet Below
दिल्ली के मुख्यमंत्री @ArvindKejriwal शनिवार शाम झिलमिल कॉलोनी में रामलीला देखने अपने पत्नी @KejriwalSunita के साथ पहुंचे।

बचपन से ही रामलीला देखना पसंद करते आए है मुख्यमंत्री, और आज भी हर साल अपने परिवार के साथ एक दिन तो जरूर समय निकालते हैं। pic.twitter.com/zGq8WkIDBx

— AAP (@AamAadmiParty) October 6, 2019
The tweet by Aam Aadmi Party (AAP) mentions that despite his busy schedule, Kejriwal makes it a point to attend the Ramleela every year. The original tweet in Hindi also says that Arvind Kejriwal has been fond of the Ramleela ever since he was a kid. "The Delhi chief minister makes it a point to attend the Ramleela at least once even now despite his busy schedule," said the tweet.