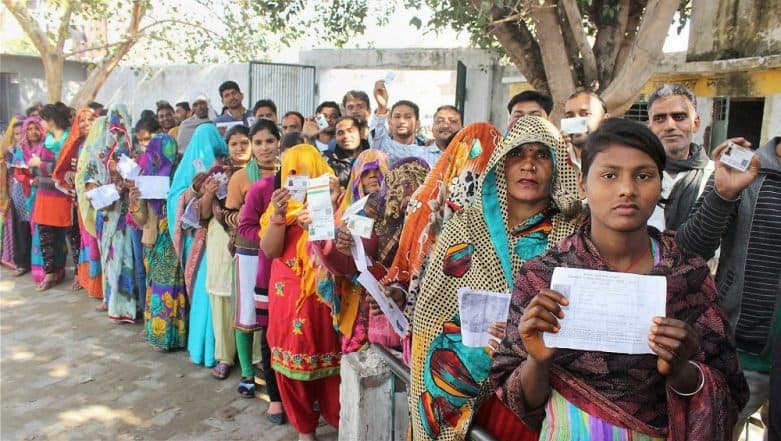 New Delhi, March 10: Bypolls in 34 seats of state legislative assemblies will be held simultaneously with the Lok Sabha elections 2019, announced Chief Election Commissioner Sunil Arora on Sunday. As per the statement issued by the Election Commission of India (ECI), the bye elections in the above constituencies will be held on the same dates when their respective parliamentary seats will go to polls. Check Full Schedule of Lok Sabha Elections 2019.
"There are 34 casual vacancies in Legislative Assemblies of 12
States, as on 09.03.2019. In regard to provisions of Section 151A of the
Representation of the People Act, 1951, the Commission has decided to
hold bye-elections to these 34 Assembly Constituencies following the
same schedule as for the relevant Parliamentary Constituency," said the ECI statement.
Of the 34 bypoll seats, the maximum are in Tamil Nadu (21), followed by Goa (3), Bihar (2), Gujarat (2), West Bengal (2), and 1 each in Meghalaya, Maharashtra, Puducherry, Nagaland, Mizoram and Madhya Pradesh.
Assembly Bypolls 2019 Schedule: Check Seat-Wise Dates Released by ECI
Check Seat-Wise Schedule of Bypolls in Tamil Nadu, Bihar, Goa, Meghalaya, Mizoram, Gujarat, UP, MP, Pondicherry, Nagaland and West Bengal, to be "held simultaneously with Lok Sabha Elections 2019" | #Elections2019 pic.twitter.com/EoBFMq6y1Z

— Mohammed Uzair (@mohammeduzair01) March 10, 2019
Meanwhile, the nationwide Lok Sabha elections will begin on April 11 and polling would be held over seven phases through May 19, followed by counting of all votes on May 23, the ECI announced on Sunday.
Assembly polls in Andhra Pradesh, Arunachal, Odisha and Sikkim will also be held simultaneously, the Election Commission (EC) said. However, elections for the Jammu and Kashmir assembly, which was dissolved after the ruling coalition between the BJP and the PDP fell apart, will not be held along with the Lok Sabha polls.
CEC Sunil Arora said the model code of conduct would come into immediate effect from Sunday and 10 lakhs polling stations would be set up this time as against about nine lakhs in 2014. Nearly 90 crore voters would be eligible to vote for 543 Lok Sabha constituencies across the country.
(With PTI inputs)