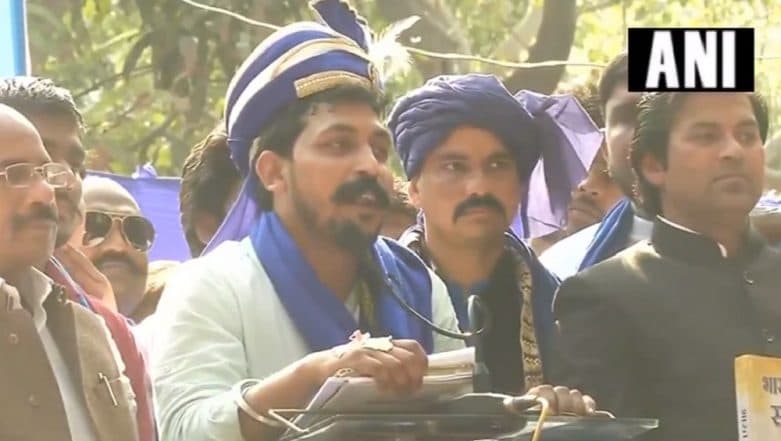 New Delhi, Mar 15: Bhim Army chief Chandrashekhar Azad on Friday said that an incident like Bhima-Koregaon violence can recur if the Constitution is tampered with. While addressing the 'Hunkar Rally' in the national capital, Azad said, "The Bhim Army was made to protect the Constitution... Before you got and vote remember the demise of Rohith. Do you remember Rohith Vemula? Do you remember Una violence? Do you remember Shabbirpur? Do you remember Phagwara incident? Who pulled the trigger? Will you forget all these and vote?"
He added, "People are free to vote, but remember that the oppressor will always remain an oppressor. That's why I said, we will repeat Bhima Koregaon (violence). For now we don't feel the need of it, but we will repeat Bhima Koregaon if the Constitution is tampered with." Priyanka Gandhi, Jyotiraditya Scindia Meet Bhim Army Chief Chandrashekhar Azad, Admitted in Meerut Hospital.
Bhim Army's C. Azad:Vote dene se pehle Rohith ki shahadat yaad rakhna,Atyachari,atyachari hota hai,vo kabhi tumhara hiteshi nahi ho sakta...Isliye maine kaha Bhima-Koregaon dohra denge,abhi uski zarurat nahi ai hai,jis din desh ke samvidhan pe aanch ai,Bhima-Koregaon dohra denge pic.twitter.com/X92UgUX5Rx

— ANI (@ANI) March 15, 2019
"Ahead of the Lok Sabha elections, Azad said that his party has "decided to not let the dictatorship of BJP win again." "We will send out a message to workers of Bhim Army to work hard to defeat the BJP. I will contest against Prime Minister Modi and defeat him. The whole Bahujan community is with us. I will teach him a lesson," he added.