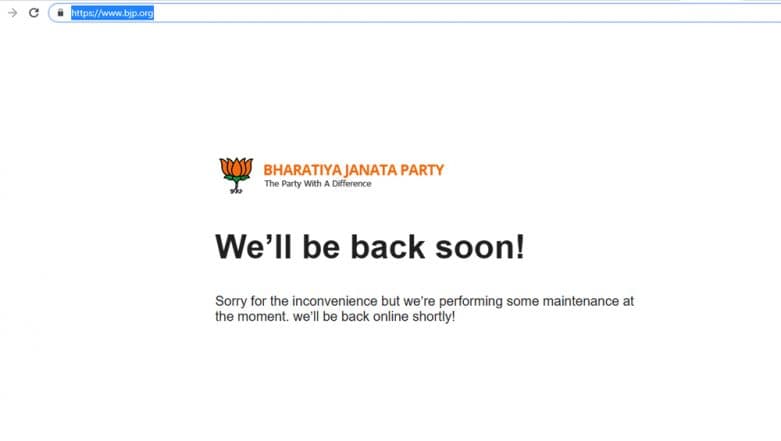 New Delhi, March 6: The Bharatiya Janata Party (BJP) official website remained offline for the second day today after it was reportedly hacked and taken down on Tuesday. On Wednesday too, the home page of the site displayed the message, "We'll be back soon! Sorry for the inconvenience but we're performing some maintenance at the moment. we'll be back online shortly!" BJP Website Hacked; Abusive Words, Error Message Appear on www.bjp.org.
The Congress took a dig at the BJP on Twitter for its website continued to be under maintenance and "offered to help". The official Twitter handle of the Congress party tweeted, "Morning BJP, we realise you've been down for a long time now. If you need help getting back up, we're happy to help."  Pulwama Aftermath: Pakistan Tried to Hack Over 90 Indian Websites, Failed Miserably.
Congress Tweet on BJP's Website
Morning @BJP4India, we realise you've been down for a long time now. If you need help getting back up, we're happy to help 🤗 pic.twitter.com/pM12ADMxEj

— Congress (@INCIndia) March 6, 2019
On Tuesday, people trying to log on to www.bjp.org were getting an error 522 message. According to some social media users, the site's home page was also showing some abusive words earlier. In no time, social media users started circulating messages saying the BJP website was hacked. The home page also carried a video mocking Prime Minister Narendra Modi.
On Sunday, there were reports that Pakistan cyber hackers tried to attack more than 90 Indian websites post the February 14 Pulwama terror attack in which40 CRPF jawans were martyred. As per reports, although the Pakistani hackers were not able to breach the firewalls and protective measures, the attack forced India to use offensive measures in the cyber domain to counter them. Notably, the location of attackers was traced to Bangladesh.
However, there has been no word yet on who was behind the hacking of BJP's official website. there has also been no word on when the BJP website will be back and working, especially when Lok Sabha Elections 2019 are around the corner.