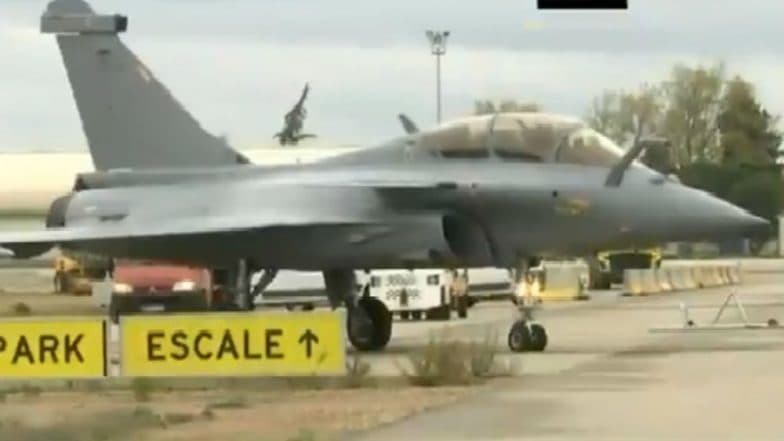 New Delhi, February 13: The Narendra Modi government today tabled the Comptroller and Auditor General (CAG) report on the Rafale Deal in the Rajya Sabha. Union Minister Pon Radhakrishnan presented the report which contained the details of the IAF deals for the period of five years from 2012 -2017. The CAG report titled "Capital Acquisition in Indian Air Force, which is of 141 pages, has 32 pages dedicated to the Rafale deal.
In the report, it is revealed that the Rafale deal concluded in 2016 was 2.8 percent cheaper than the proposed deal of 2007 by the previous United Progressive Alliance (UPA) government. Earlier, the Modi government claimed that it had saved nine percent as compared to the UPA's proposed deal.
The report also said that India managed to save 17.08 percent money for the India Specific Enhancements in the 36 Rafale contract as compared to the 126 aircraft deal by the UPA government. However, the report observed that unnecessary India-specific enhancements were made in 2016. Meanwhile, according to the report, the fly away price will be same as compared to the deal proposed by the UPA government. Rafale Deal Row: Narendra Modi Acted As Anil Ambani's Middleman, Committed 'Treason', Says Rahul Gandhi.
The report also pulled up the IAF for not defining the Air Staff Qualitative Requirements (ASQR) during the procurement process as it kept on changing its requirements. As a result, none of the vendors could fully meet the ASQRs. The report further added that due to this it created difficulties during technical and price evaluation and affected the integrity of competitive tendering. Hence, resulting in delaying in the acquisition process. Also, the CAG report pointed out that objectivity, equity and consistency of technical evaluation process wasn't evident in the Technical Evaluation Report. Rafale Deal Controversy: Anil Ambani-Owned Reliance Defence Refutes Rahul Gandhi's Allegations, Says 'Reality Ignored'.
Finding issues in the UPA era 126 aircraft deal, the CAG said that the Defence Ministry team had said in 2015 that the proposal of Dassault Aviation Rafale should have been rejected in technical evaluation stage itself as it was non-compliant with a request for proposal (RFP) requirements.
Last week, former Union minister and senior Congress leader Kapil Sibal alleged a conflict of interest and added the CAG Rajiv Mehrishi who was the finance secretary when the deal was signed would try to save the central government. Meanwhile, earlier in the day, Congress president Rahul Gandhi said that he would be conducting a press conference on the report at 3:30 pm today.