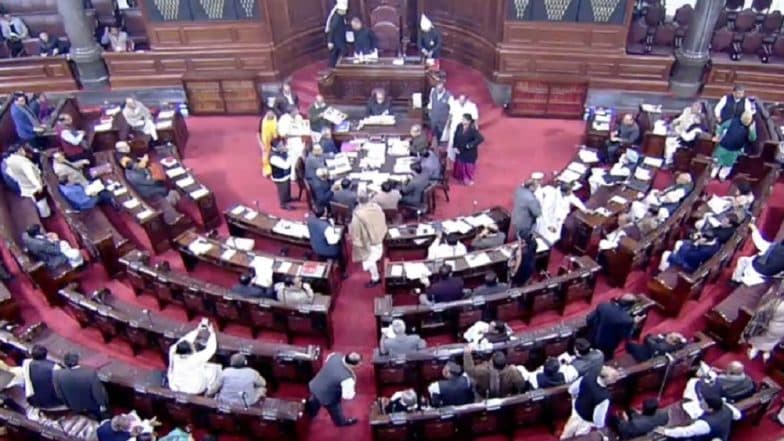 New Delhi, February 13: The Comptroller and Auditor General (CAG) report on the Rafale Deal was tabled in the Rajya Sabha on Wednesday amid uproar from the opposition parties. The report was presented by union minister Pon Radhakrishnan. The CAG report titled "Capital Acquisition in Indian Air Force, which is of 141 pages, has 32 pages dedicated to the Rafale deal. The report contained the details of the IAF deals for the period of five years from 2012 -2017.
Yesterday, reports surfaced that Anil Ambani visited then French Defence Minister Jean-Yves Le Drian's office in Paris and had a meeting with his top advisors just around 10 days before PM Narendra Modi's visit to the European country to finalise the Rafale Deal. The meeting was attended by Le Drian's special advisor Jean-Claude Mallet; his industry advisor, Christophe Salomon; and his technical advisor for industrial affairs, Geoffrey Bouquot. Sibal Charges Current CAG Mehrishi with Complicity in Rafale Deal, Warns Bureaucrats of Loyalty to PM Modi.
Ambani was also part of the PM's delegation during his visit to France where the deal was announced by in a joint statement issued by the two countries. The Congress and other opposition parties are attacking the Modi government for giving the offset clause worth Rs 30,000 crore to Ambani's Reliance Naval and engineering Limited instead of state-owned Hindustan Aeronautics Limited (HAL). Rafale Deal Controversy: Anil Ambani-Owned Reliance Defence Refutes Rahul Gandhi's Allegations, Says 'Reality Ignored'.
On Tuesday, Gandhi slammed PM Modi citing an email of an Airbus employee. He said that PM Modi acted as a middleman for Ambani's Reliance Naval and Engineering Limited. However, Ambani's organisation refuted the Congress president's charges.