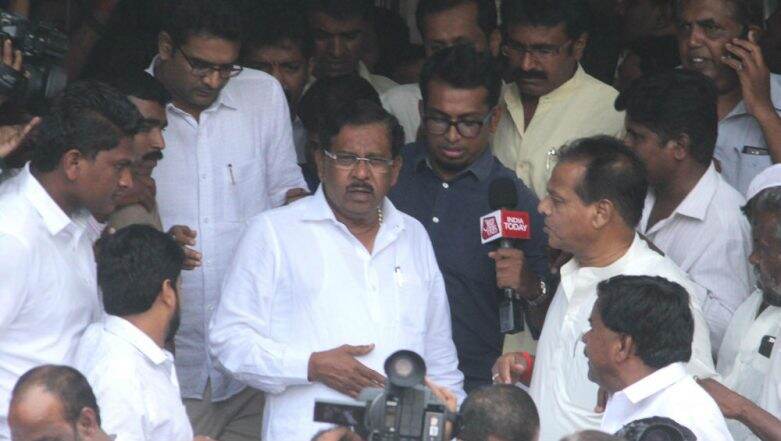 Bengaluru, November 17: In a snub to Andhra Pradesh Chief Minister N Chandrababu Naidu, senior Congress leader and deputy chief minister of Karnataka G Parameshwara on Saturday said the Central Bureau of Investigation (CBI) won't be barred from entering his state. It means the Congress-JD(S) coalition government in Karnataka won't withdraw 'general consent' to CBI to conduct raids and investigations in the state.
"I don't know what drove Andhra Pradesh government to state that CBI will now have to seek prior permission before entering the state for official work. We have not experienced anything like this; hence, there is no need to issue such notification," Parameshwara told reporters. In an unprecedented move, the Andhra Pradesh government on Friday barred the CBI from conducting raids or carrying out investigations in the state without its permission. Arun Jaitley Hits Back at Chandrababu Naidu & Mamata Banerjee, Says 'Those Who Have Lot to Hide Fear CBI'.
The Telugu Desam Party (TDP) government issued the orders withdrawing 'general consent' to CBI officers to exercise jurisdiction in the state to investigate corruption charges against officials of the Central government and private persons. The latest move by the TDP government is seen as another flash-point between the state and the Centre after TDP pulled out of BJP-led NDA in March this year. Demonetisation Highly Ethical Move, Not Political: Finance Minister Arun Jaitley.
Following the footsteps of Naidu, West Bengal Chief Minister Mamata Banerjee too withdrew the free pass or 'general consent' to the country's top investigation agency. TDP president had been accusing the Modi government of misusing central agencies to target TDP leaders for demanding special category status to the state.
There have been a series of Income Tax searches at the offices and residences of TDP leaders in recent weeks. TDP leaders had also voiced the apprehension that the Centre could use CBI and other agencies to target the top leadership of the party. Naidu, who is trying to mobilise all opposition parties to form a front against the BJP, alleged that Modi was weakening the central institutions.