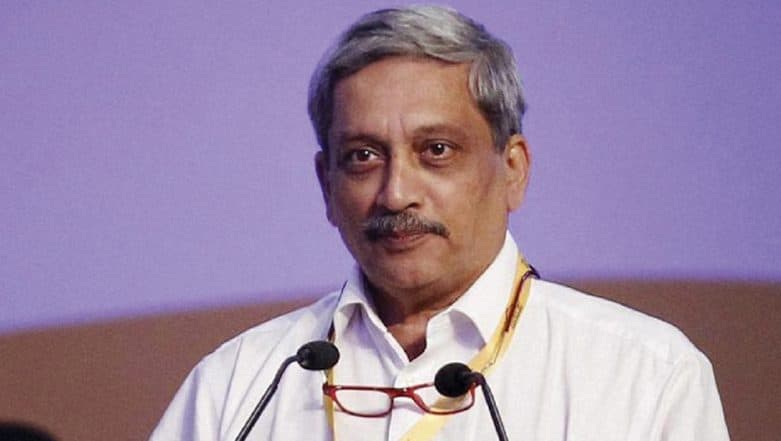 Panaji, March 17: Goa Chief Minister and former Union Defence Minister Manohar Parrikar breathed died at the age of 63 years on Sunday at his residence. Parrikar was suffering from pancreatic cancer for a long time and even went to the United States for the treatment in March 2018. After returning from the US, he had also undergone treatment at AIIMS in Delhi. President Ram Nath Kovind announced the news of Parrikar's demise shared his condolences.
Extremely sorry to hear of the passing of Shri Manohar Parrikar, Chief Minister of Goa, after an illness borne with fortitude and dignity. An epitome of integrity and dedication in public life, his service to the people of Goa and of India will not be forgotten #PresidentKovind

— President of India (@rashtrapatibhvn) March 17, 2019
As reports were circulated about Parrikar suffering from a major disease, Health Minister of Goa – Vishwajit Rane – confirmed on October 27, 2018, that Parrikarwas suffering from pancreatic cancer. Manohar Parrikar Dies at 63; Union Cabinet to Hold Condolence Meet For Late Goa CM at 11 AM Tomorrow.
Earlier on Saturday, there were reports that Parrikar was very ill and his health condition had deteriorated to a certain level that can't be recovered. However, state minister Vijay Sardesai had stated, "He is not on life support. I don't know what medical term we can use for it. The chief minister's office has said he is stable, so we will take it that he is stable."
Life and Times of Manohar Parrikar
Born in Mapusa of Goa, Parrikar did his primary education at Loyola High School in Margao. He went to the Indian Institute of Technology, Bombay, in 1978 for his graduation in metallurgical engineering. It is to be known that he is first IIT alumnus from Goa to become Chief Minister and then the Union Defence Minister.
Political Career
Parrikar started his political career with Rashtriya Swayamsewak Sangh and became sangachalak (local director) at the age of 26. He was active in the Ram Janmabhoomi movement and often been described as Pracharak of RSS – CM of commons.
The RSS leader contested Assembly elections for Goa in 1994 and was the Leader of Opposition from June to November 1999. He contested successfully in 2000 and became the CM of state on October 24, 2000, to February 27, 2002. Parrikar was re-elected again on June 5, 2002, and this time he served till 2007.
Even as he lost to Congress in 2007, Parrikar did not lose hope and returned to power in 2012 and became the CM again. On the request of Prime Minister Narendra Modi, Parrikar joined the central cabinet and was allotted the Defence Ministry portfolio in October, 2014. But, with Goa Assembly elections in March, 2017, he returned to the state and retook charge as Chief Minister.