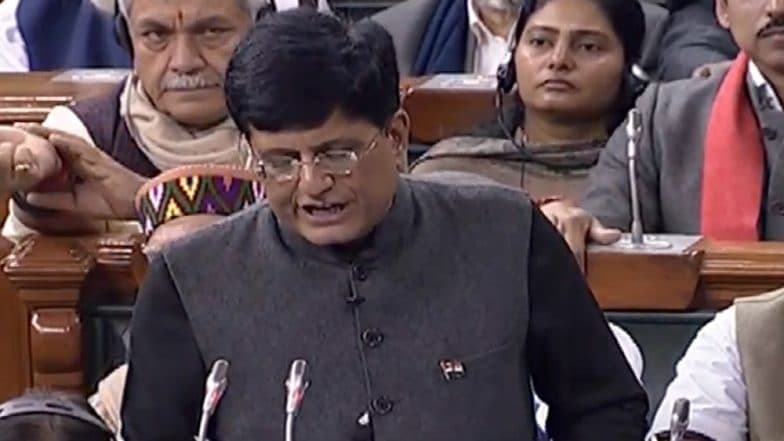 New Delhi, February 11: The Interim Budget was passed in the Lok Sabha today, on  Monday amid a huge uproar and walkout by the Congress and the Left parties. Finance Minister Piyush Goyal presented the budget in the Parliament on February 1, 2019. Budget 2019 Highlights: FM Piyush Goyal's 'Budget For New India' to Opposition's 'Jumla' Charge, Who Said What on Interim Budget.
Finance Minister Piyush Goyal said in the house that the Interim Budget for 2019-20 is aimed at overall development of the country so that each citizen can benefit. Budget 2019 Highlights: Interim Budget Brings Cheers For Middle Class, Farmers & Labourers.
However, the major point of contention on the budget was on government's announcement in the budget making provision for farmers getting paid Rs 6,000 annually in three installments named as Pradhan Mantri Kisan Samman Nidhi Yojana. However, the Congress dismissed the government's plan for farmers as having no real substance. Budget 2019-2020 Highlights Video: Minimum Income Support For Farmers, Tax Relief For Middle Income Groups And More in Piyush Goyal's Interim Budget.
Finance Minister Piyush Goyal said, "The Budget provides for a substantial benefit to small and marginal farmers. Under the Pradhan Mantri Kisan Samman Nidhi Yojana, 12 crore farmers with less than two hectares of land holding will get Rs 6,000 per year. The amount in three installments will go directly into their bank accounts," even as continuous slogan shouting by some opposition members continued.
The Bills were passed by voice following the Finance Minister's reply."The government's priorities are poor, farmers and the middle-class. Our government was the first to increase minimum support price (MSP) for farmers," Mr Goyal said before his speech was interrupted by sloganeering from the Opposition leaders.