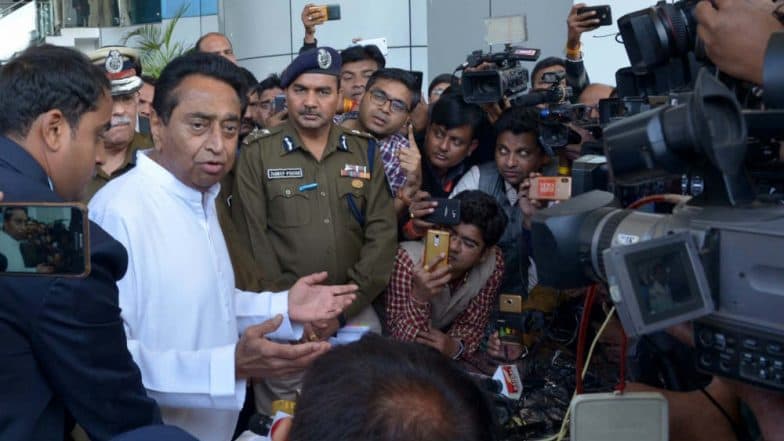 Bhopal, February 8: In a stern warning to Gau Rakshaks (cow vigilantes), Madhya Pradesh Chief Minister Kamal Nath on Wednesday said his government would not spare anybody involved in violence in the name of cow. Kamal Nath's warning is seen as an attempt to woo minorities after he was slammed for invoking National Security Act on three persons belonging to the minority community for their alleged involvement in cow slaughter.
"We will not spare anybody involved in mob lynching or instigating violence in the name of cow protection," Nath said after discussing Gaushala Bill at a high-level meeting. Several incidents of Gau Rakshaks intercepting trucks transporting cattle and assaulting driver and support staff have taken place in the state recently. Nath was slammed by his own partymen for invoking NSA in the cow slaughter case.
"If the government is taking action on slaughter, it must act against cow vigilantes too," Arif Masood, Congress MLA from Bhopal South-West, said. He also said the family members of the accused denied their involvement in the cow slaughter. Congress leader Naseem Khan also slammed Kamal Nath for invoking NSA for cow protection in the state. Rahul Gandhi Portrayed as 'Ram Bhakt', Kamal Nath as 'Hanuman Bhakt' in Hoarding.
"If BJP indulges in wrongdoings then we can understand that their government is run on the thoughts of RSS hence it is doing so. But in Madhya Pradesh, our own government has invoked NSA for cow protection. If for cow protection, we impose a strict law like NSA, then NSA should also be imposed on all those who commit atrocities on innocents in the name of cow protection," Khan, a former minister in Maharashtra government, said.
On February 5, the National Security Act was invoked against three persons accused of illegal cow slaughter in the communally sensitive Khandwa region. The incident took place on Friday in Khandwa. The three accused had escaped taking advantage of the dark. The NSA was slapped by police against the accused with the consent of the district administration.