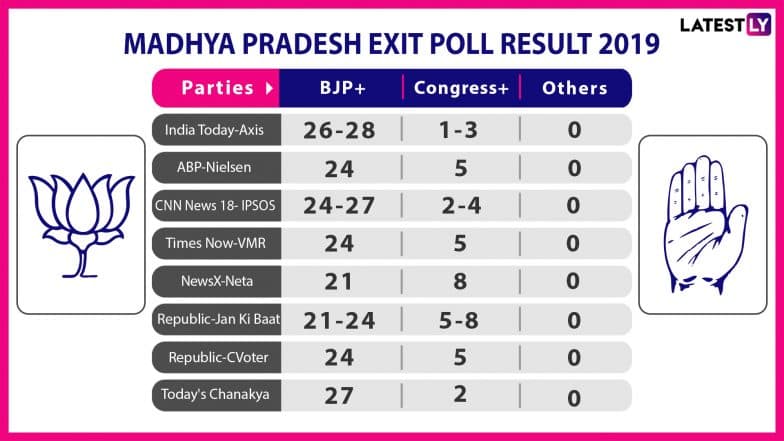 The exit poll results of Lok Sabha Elections 2019 for all 29 constituencies of Madhya Pradesh are out. Voting in this state was held in four phases, beginning from April 29. The exit poll surveys conducted by major research institutes and their tie-up with news channels indicate, BJP will get an upper hand in the state. All the exit polls given by news channels indicate out of 29 seats, more than 20-25 seats will be with BJP, while the Congress will get 1-4 seats. As per the India Today-Axis My India survey, BJP will get 26-28 seats while Congress will get about 1-3 seats. As per the survey of NewsX-Neta, BJP is leading by 21 seats and the remaining 8 seats for Congress. News24-Today's Chanakya, predicts the BJP to win 27 seats while Congress is expected to win 2 seats. TimesNow-VMR survey results points that BJP will win 24 seats and remaining 5 with Congress.
According to ABP-CSDS, BJP is expected to win 25 seats and Congress 4 seats. According to NDTV's Poll of Polls, BJP will get 26 seats and Congress 3. As per predictions by Republic-Jan ki Baat, BJP will get somewhere between 21-24 seats, and Congress 5-8. As per Republic-CVoter survey results, BJP is predicted to win 24 seats and Congress to get 5 seats. Exit Poll Results For Lok Sabha Elections 2019 LIVE News Updates: Predictions By News18-IPSOS, India Today-Axis, News 24-Today's Chanakya, ABP-CSDS And More.
Madhya Pradesh has total of 29 Lok Sabha constituencies. Voting here took place on April 29, May 6, May 12 and May 19 respectively. In the first phase, 6 seats went to poll. Followed by 7 seats in the fifth phase, 8 seats in the sixth phase and remaining 8 seats in the last phase of Lok Sabha Elections. Results of the elections will be declared on May 23. Madhya Pradesh Lok Sabha Elections 2019 Schedule: Constituency Wise Dates Of Voting And Results For MP General Elections.
Exit Polls Results for Madhya Pradesh Are:
| | | | |
| --- | --- | --- | --- |
| Agency | BJP | Congress | Others |
| India Today-Axis |  26-28 |  1-3 | |
| ABP-Nielsen |  24 |  5 | |
| CNN News 18- IPSOS |  24-27 |  2-4 | |
| Times Now-VMR |  24 |  5 | |
| NewsX-Neta |  21 |  8 | |
| Republic-Jan Ki Baat |  21-24 |  5-8 | |
| Republic-CVoter |  24 |  5 | |
| Today's Chanakya |  27 |  2 | |
The key candidates in Madhya Pradesh Lok Sabha Elections are Pankaj Sanghvi of the Congress and Shankar Lalwani of the BJP from Indore. In Chhindwara constituency Nakul Nath from Congress, who is the son of Chief Minister Kamal Nath. Former Chief Minister and senior Congress leader Digvijaya Singh, the Bharatiya Janata Party (BJP) and Malegaon blast accused Sadhvi Pragya Singh Thakur are in the election battleground from Bhopal constituency. Jyotiraditya Scindia of the Congress is representating from the Guna constituency. Ramakant Bhargava of BJP is contesting from the Vidisha constituency. This is an important seat as Minister Sushma Swaraj has been a 2-time MP from this seat.
Watch Video About Exit Polls:
In the year 2014, BJP won 27 seats and two by Congress. Later in by-poll, one more seat (Ratlam) was won by Congress increasing its tally to three. Meanwhile, in 2018 state elections, the Congress won seven out of the eight segments while the BJP won the remaining one in Morena.