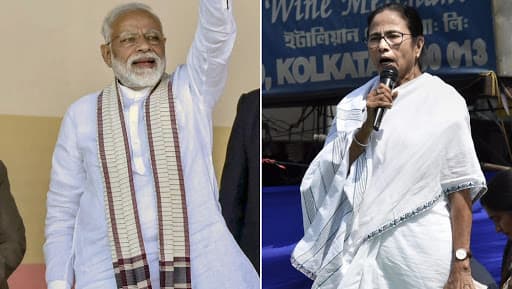 Kolkata, May 16: With the Election Commission curtailed the poll campaigning timing till 10 am on Thursday in West Bengal, state Chief Minister Mamata Banerjee lambasted Prime Minister Narendra Modi and shouts 'Chowkidar Chor Hai' at her rally. This new attack reminds him leaning towards the Congress ahead of the last leg of Lok Sabha Elections 2019.
Addressing an electoral rally in Diamond Harbour on Thursday, the Trinamool Congress supremo said to the audience, "Repeat with me... Chowkidar .... " multiple times. Soon after her shouting the word, the audience completed the phrase by saying '... Chor Hai', each time she repeated it. PM Narendra Modi Slams Mamata Banerjee And Mayawati, Says 'Once TMC Goons Forced Me To Cut Short My Speech And Leave Stage'. 
Here's the Tweet:
#WATCH: West Bengal CM Mamata Banerjee asks the crowd to chant, "Chowkidar Chor Hai", at a rally in Diamond Harbour. pic.twitter.com/Dpj1Ex3Aa5

— ANI (@ANI) May 16, 2019
The war of words gained momentum between Modi and Banerjee after the violence erupted in Kolkata during BJP chief Amit Shah' rally. In the violence, the iconic Ishwar Chandra Vidyasagar was vandalised. Along with this, three bikes were set ablaze and a few people from both sides - TMC and BJP - sustained injuries.
Later taking note of the violence in the state, EC ordered curtailing of poll campaigning for the seventh phase till 10 pm today. Following this, Banerjee hit out at the order by calling the EC's decision as "unprecedented" and "unconstitutional". She even stated that the commission's decision is 'unfair, unethical and politically biased'.