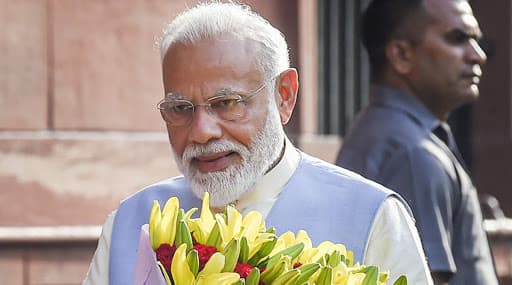 Prime Minister Narendra Modi will celebrate his 69th birthday this year. Narendra Modi was born on September 17, 1950, in Gujarat's Vadnagar. He is serving as the 14th  and the current Prime Minister of India. Modi is also the first Non-Congress PM to win two consecutive terms with a full majority. PM Modi served as the Chief Minister of Gujarat from 2001 to 2014. PM Narendra Modi Interacts With 'Humans of Bombay', Shares Experiences From Himalaya Days; Read His Full Story Here.
PM Narendra Modi's journey to success was full of hardships and challenges. However, he proved his mettle at every juncture. Whenever PM Modi had faced failure in his life, he resurrected himself and moved on with his head held high. Narendra Modi Swearing-In Ceremony: With 8,000 Guests in Attendance at Rashtrapati Bhavan, Oath-Taking Event Biggest in India.
Let's Have a Look at His Success Story:
In his childhood, PM Modi helped his father in selling tea. He used to open his father's tea stall at Vadnagar railway station in the morning before going to school. In one of his interview to Humans of Bombay, the Prime Minister said that his family of eight lived in a 40x12 feet house and he used to get up at 5 am. The PM in the interview said, "I really looked forward to was meeting people from all over the country. I would serve them tea and listen to their stories – that's how I learnt to speak Hindi." PM Narendra Modi to Receive 'Order of Zayed', UAE's Highest Civilian Honour, During His 2-Day State Visit.
At the age of eight, he joined the Rashtriya Swayamsevak Sangh (RSS). In 1978 Modi received a Bachelor of Arts degree in political science from School of Open Learning at University of Delhi. Five years later, in 1983, he received a Master of Arts degree in political science from Gujarat University. Happy Birthday, PM Narendra Modi: Messages And Wishes to Post as WhatsApp Status, DP, Facebook Status, Tweet to Wish The Prime Minister.
Political Career
PM Modi's political career started in June 1975. In the same year, the then Prime Minister Indira Gandhi declared a state of emergency in India, many of her political opponents were jailed and opposition groups were banned. Modi was appointed a general secretary of the "Gujarat Lok Sangharsh Samiti". After some time the RSS was also banned. He was involved with creating a network of safe houses for individuals wanted by the government, and in raising funds for political refugees and activists.
The PM became an RSS sambhag pracharak (regional organiser) in 1978, overseeing RSS activities in the areas of Surat and Vadodara. In 1979, he went to work for the RSS in Delhi, where he was put to work researching and writing the RSS's version of the history of the Emergency. He named a member of the BJP's National Election Committee in 1990.
Chief Minister of Gujarat (2001-2014):
Modi was appointed as chief minister of Gujarat in 2001 due to the failing health of Keshubhai Patel. After his appointment as the Gujarat CM, he was elected to the state legislative assembly. In 2002, Godhra riots took place during his tenure as the chief minister. He received heavy criticism because of the way his government handled the riots. Due to the backlash by opposition parties, he resigned from the post in the same year. In December 2002 he again became the CM of the state. Narendra Modi served as the chief minister of Gujarat till 2014. PM Narendra Modi Conferred With Russia'a Highest Civilian Award 'Order of St Andrew the Apostle'.
First Tenure as Prime Minister (2014-2019):
In September 2013, Modi was named the BJP's candidate for prime minister for the 2014 Lok Sabha Elections. Various BJP leaders, including Lal Krishan Advani, opposed his candidature. He won Lok Sabha seat from Varanasi beating Aam Aadmi Party's (AAP) chief Arvind Kejriwal. In the elections, The BJP won 31 percent of the votes and doubled its tally in the Lok Sabha to 282. Modi was sworn in as the Prime Minister of India for the first time on May 26, 2014, at the Rashtrapati Bhavan.
Second Tenure as PM (2019- Till Date):
Narendra Modi was sworn-in as the Prime Minister of India for the second consecutive time on May 30, 2019. The BJP registered a landslide victory in the general elections. The saffron party won 303 seats. The BJP-led led National Democratic Alliance bagged 353 seats.
PM Modi is considered as of the greatest orators in the country's political landscape. He has an extraordinary ability to connect with masses.  PM Modi also received many international awards. Recently, PM Modi received the Order of Zayed, the highest civil decoration of the United Arab Emirates (UAE) during his two-day visit to the country. Apart from this, he also conferred with Russia'a highest civilian award 'Order of St Andrew the Apostle' and Seoul Peace Prize.