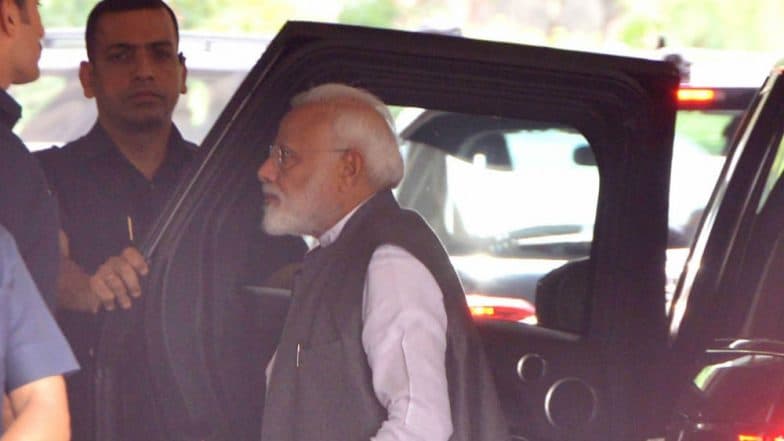 New Delhi, August 20: Prime Minister Narendra Modi said the government is considering suggestions regarding the construction of a new Parliament building and modernisation of facilities at the existing complex. Lok Sabha Speaker OM Birla and Rajya Sabha Chairman M Venkaiah Naidu had pitched for the construction of a new Parliament House by 2022, when the country is set to celebrate 75 years of Independence.
"There was a view in both the houses of parliament - which the Lok Sabha Speaker and the Vice President also expressed-- that the country will celebrate 75 years of freedom in 2022, so the condition of our parliament should also change," PM Modi said after inaugurating 36 duplex flats for members of Parliament at North Avenue on Monday. He said he has been listening demand that the Parliament complex must get a face-lift. Rajiv Gandhi 75th Birth Anniversary: PM Narendra Modi Pays Tribute to India's Youngest Prime Minister.
"Officers are deciding if the existing building can be modernised or a new building will have to be constructed. I have requested them to complete the process as fast as possible so that it is completed when the country completes 75 years of independence," the prime minister said. PM Modi said it has been experienced that whenever Parliament session begins, MPs face inconvenience regarding lodging arrangements. Narendra Modi Targets Pakistan in Phone Conversation With Donald Trump.
The prime minister mentioned that MPs themselves don't need more than a single room for himself, but they want enough space for those who visit them in the national capital. Inaugurated in 1927, the parliament building, which houses Lok Sabha and Rajya Sabha, was designed by architects Edwin Lutyens and Herbert Baker during the British rule.