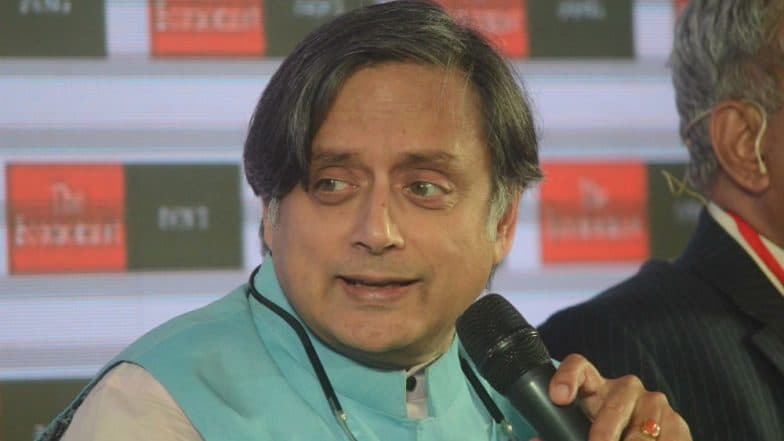 Mumbai, February 7: "If you can salute greatness passing by, you yourself are great," read a famous quote. Congress leader Shashi Tharoor seems to have taken the advice to heart and found greatness in Kerala's fishermen. The Congress leader in a letter has recommended Kerala's fishermen for the esteemed Nobel Peace Prize. Shashi Tharoor Shares the Word "Moledro", And Twitter Can't Stop Thanking Him.
The Thiruvananthapuram MP wrote to the Chairperson of the Norwegian Nobel Committee, which is responsible for the selection of candidates and the choice of Nobel Peace Prize Laureates. Kumbh Mela 2019: BJP Accuses Shashi Tharoor of Insulting Hinduism by 'Ridiculing' the World's Biggest Congregation.
The Congress leader wrote, "Peace is more than the absence of conflict. It is about transcending social identities to embrace all of humanity as fraternity. The fisherfolk of Kerala displayed immense courage and saved hundreds of lives during the floods last year. Their selflessness must be lauded globally." Kerala Floods: Centre Forwards Rs 102 Crore Bill for Use of IAF Aircraft, Choppers During Relief Operations.
Tharoor continued: "They took their boats inland, and with their expert knowledge of the local conditions, their participation in the ongoing relief operations proved to be a gamechanger, as not only were they able to pick up stranded personnel in their vicinity but were also instrumental in guiding boats of other rescue teams amidst the swirling waters.
The lasting image of a fisherman bending low in the water so as to allow an older person he had rescued to climb on his back and get on his boat is a particularly striking reflection of this spirit that has been etched into the hearts of a grateful community," he wrote. Kerala was hit by massive floods in August last year, which claimed over 357 lives. Moreover, the state incurred losses worth Rs 19,512 crore. (With Agency Inputs)