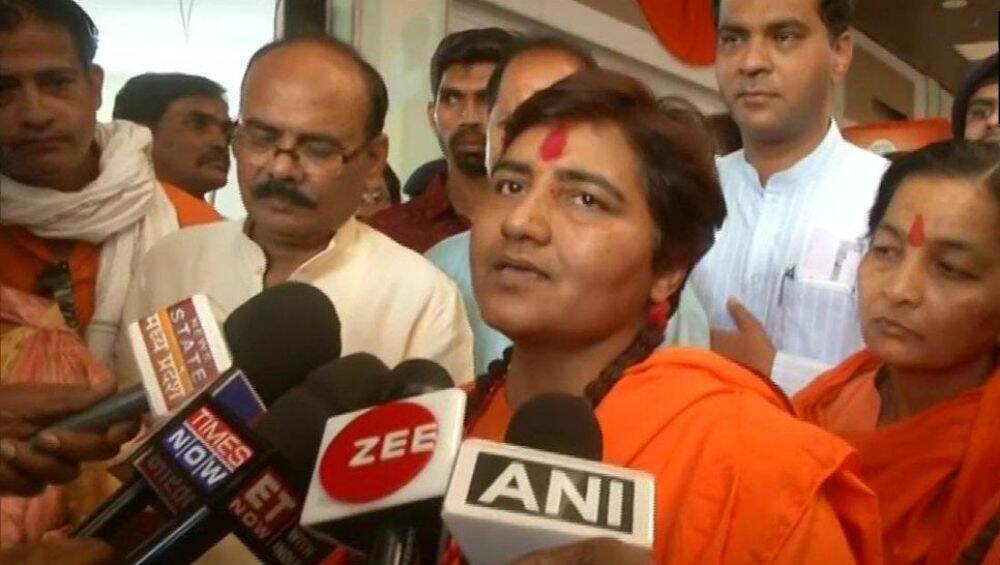 New Delhi, November 28: Bharatiya Janata Party (BJP) lawmaker Sadhvi Pragya Singh Thakur, under flak for apparent reference to Mahatma Gandhi's assassin Nathuram Godse as "deshbhakt (patriot)" in Lok Sabha, said she has been misquoted and misinterpreted by the media. The saffron-clad politician claimed that she was not referring to Godse, but to freedom fighter Udham Singh. Rahul Gandhi Hits Out at 'Terrorist' Pragya Singh Thakur For Calling Nathuram Godse 'Patriot'.
Shortly after the BJP rebuked Pragya's remarks and dropped her from the parliamentary panel on defence affairs, she took to Twitter to rebut the allegations against her. In a tweet in Hindi, the Bhopal MP said she had only spoken out in Lok Sabha as any disrespect towards Udham Singh is "unacceptable" to her.
Pragya further claimed that a false propaganda is being used to victimise her, adding that the falsehood would fall apart and the light of truth would shine again.
Pragya Thakur Reacts to Godse-Deshbhakt Row
कभी-2 झूठ का बबण्डर इतना गहरा होता है कि दिन मे भी रात लगने लगती है किन्तु सूर्य अपना प्रकाश नहीं खोता पलभर के बबण्डर मे लोग भ्रमित न हों सूर्य का प्रकाश स्थाई है। सत्य यही है कि कल मैने ऊधम सिंह जी का अपमान नहीं सहा बस।

— Sadhvi Pragya Official (@SadhviPragya_MP) November 28, 2019
The controversy erupted on Wednesday, when Pragya Thakur intervened during the address of DMK lawmaker A Raja. While debating over the SPG (Amendment) Bill, Raja told the House that Godse held a grudge against Gandhi for nearly 32 years before assassinating him. His statement prompted Pragya to interrupt, saying, "You cannot give example of a deshbhakt."
Earlier in the day, BJP working president JP Nadda said the party has decided to remove her from the parliamentary defence panel for her "condemnable" remarks in Lok Sabha. Subsequently, Defence Minister Rajnath Singh told the House that the BJP has never supported any ideology which considers Godse as a patriot.
Lok Sabha Speaker Om Birla, while appealing lawmakers to refrain from creating ruckus, said a debate on the issue cannot be held as the remarks of Pragya Thakur have been expunged from the records.
The Opposition, however, was not satisfied with the government's response and staged a walkout. Notices have been served in Lok Sabha and Rajya Sabha by AIMIM MP Asaduddin Owaisi and AAP lawmaker Sanjay Singh, respectively, seeking a debate on the issue in both the Houses.