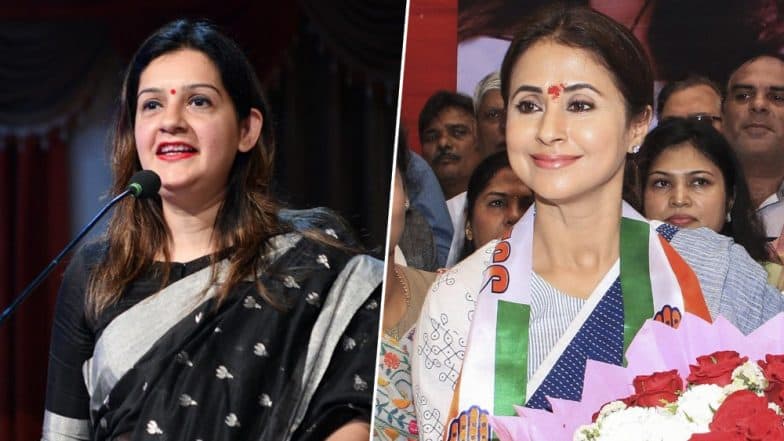 Mumbai, September 10: Minutes after news broke that Urmila Matondkar has resigned from Congress, Shiv Sena leader Priyanka Chaturvedi posted a cryptic tweet, leaving netizens wondering if the post was directed at the actor-turned-politician. Priyanka Chaturvedi, who was previously with Congress, tweeted in Hindi: "Jako Rakhe Saiyan, Mar Sake Na Koye (When God protects you, no one can hurt you)." She also posted a picture which says, "Karma has no deadline".
Chaturvedi's tweet came after Urmila Matondkar resigned from Congress ahead of the coming assembly elections in Maharashtra. Netizens were quick to connect the dots between Chaturvedi's tweet and Matondkar's resignation. There were reports that Chaturvedi quit Congress after she was denied Lok Sabha ticket from the Mumbai North seat. Congress fielded Matondkar who joined the party barely five months before the Lok Sabha elections. Many Twitter users believed Chaturvedi's tweet was a veiled swipe at Matondkar and Congress.
Priyanka Chaturvedi's Tweet:
जाको राखे साइयां, मार सके न कोय। pic.twitter.com/ZMjM6hULSB

— Priyanka Chaturvedi (@priyankac19) September 10, 2019
Chaturvedi, who later joined Shiv Sena, also liked a tweet of C R Kesavan, the grandson of C Rajagopalachari. "People who have loyally stood by any party tend to get overlooked in favour of political tourists," Kesavan, who had appeared as a panellist for Congress on news channels, tweeted.
Reaction on Priyanka Chaturvedi's Tweet:
Is This Tweet Directed To @UrmilaMatondkar ?

# just asking

— manish vora (@manishvora104) September 10, 2019
Those who don't know the reference pic.twitter.com/v5YkIhBGkO

— आम आदमी (@commonman_says) September 10, 2019
Today, you proud your self for Join Shiv Sena.

Congress pay the Price today

— Rudra (@NeerGopal) September 10, 2019
Urrrmiiii 😊

— JhumruSeth 💙 (@SethJhumru) September 10, 2019
In her resignation, Matondkar said she did not wish to be used for "petty in-house politics". "It is obvious that the key functionaries of Mumbai Congress are either unable or not committed to bring about a change and transformation in the organisation for betterment of the party," she said in a statement to the media.