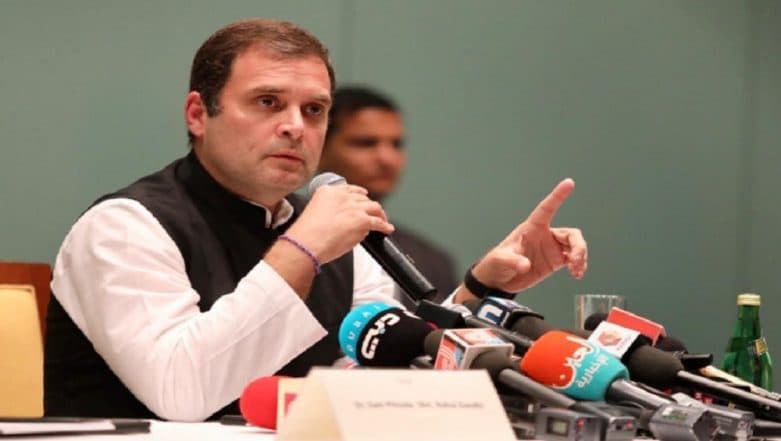 Dubai, January 13: Under flak for his alleged misogynistic remarks against Defence Minister Nirmala Sitharaman, Congress president Rahul Gandhi struck back at the ruling Bharatiya Janata Party (BJP), accusing it of raising non-issues to evade the questions raised on the Rafale fighter jets deal. The Gandhi scion said his remarks would had been the same even if the Defence Minister would have been a man.
While addressing a press conference in Dubai, Gandhi was asked to clarify on the sexism charge levelled against him by the BJP top brass. In his response, the Congress chief said he was only condemning the Prime Minister for hiding behind his Cabinet colleague, while the accusation of corruption is being pressed directly against him. NCW Issues Notice to Rahul Gandhi for 'Misogynistic' and 'Offensive' Remarks Against Nirmala Sitharaman.
"Prime Minister Narendra Modi has helped Anil Ambani steal Rs 30,000 crore and the House of the people Lok Sabha is where he should have defended himself but he chose to send another person and that person happened to be a woman," he said.
"I would have made a very similar comment if it had been a man. Do not impose your sexism on me. I am very clear that the prime minister should have delivered that defence but he did not have the guts," Gandhi further added.
He said the Congress has not yet got the answer whether Defence Ministry officials objected to the Prime Minister "bypassing" the Rafale deal.
Sitharaman had spoken on behalf of the Prime Minister and defended the Rafale deal in the Lok Sabha, countering questions raised by Congress and other opposition parties.
How did the 'sexism' row erupt?
Rahul Gandhi, while addressing a rally in Jaipur on January 9, had said, "The watchman with a 56-inch chest ran away and told a woman, (Nirmala) Sitharaman ji, defend me. I won't be able to defend myself, defend me. For two and a half hours, the woman could not defend him. I had asked a straight question - answer yes or no - but she couldn't answer."
His remarks drew a sharp reaction from Union Ministers Sushma Swaraj and Smriti Irani, who accused him of plunging Indian politics to a new low through his "misogynistic attack" on Sitharaman.
PM Modi also raised the issue to lambaste his prime political rival, accusing him of "insulting" the first-ever woman defence minister of the nation.
"For the first time, a daughter of the country has become defence minister. Our defence minister silenced all the opposition parties in parliament (on Rafale) and exposed their lies. They were so stunned that now they are insulting a woman defence minister. They are insulting India's women power," Modi had said at a rally in Agra.
(With PTI inputs)