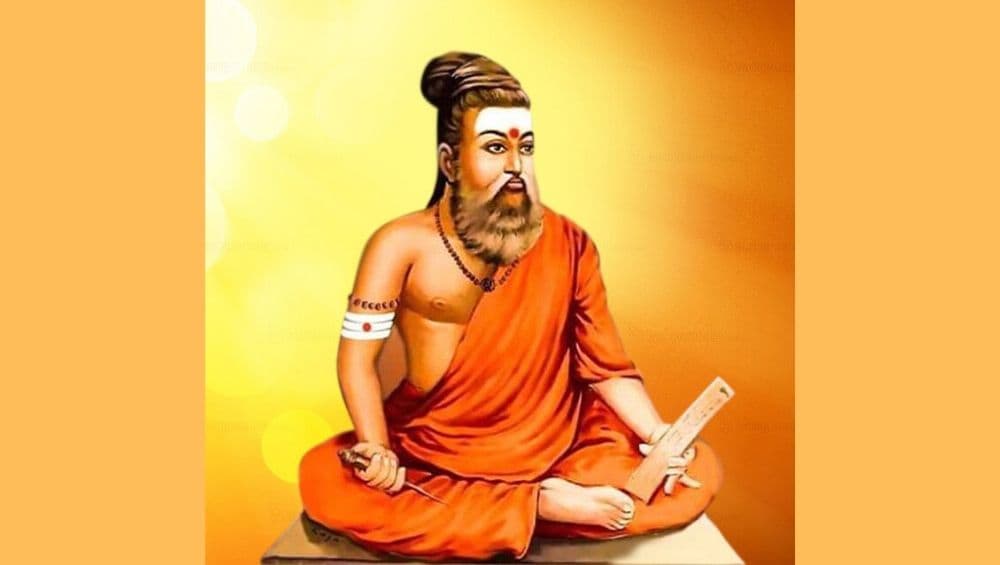 Tamil Nadu, November 4: The BJP state chapter came under heavy criticism on Sunday for trying to 'saffronise' Tamil saint and legendary poet Thiruvalluvar. PM Narendra Modi made the reference of Tirukkural in his speech in Thailand on Saturday. Post which, the BJP-affiliated Hindu organisations portrayed the poet in'saffron robes' and holy ash smeared on his forehead.
A major controversy erupted and it was strongly opposed by several opposition parties in Tamil Nadu. Soon #BJPInsultsThiruvalluvar was seen trending on Twitter, with Tamilians stating that how the image has hurt their sentiments. 'Sawasdee PM Modi' in Bangkok After 'Howdy Modi' in Houston: All You Need to Know About Prime Minister's Address to Indian Diaspora in Thailand.
Check Thiruvalluvar in saffron robes:
Why is this trending ?Pseudo seculars heart burn ! TN BJP posted this pic of Thiruvalluvar in Hindu attirewhich is correct as he praised Hindu Gods in Thirukkural. It was written before the existence of Abrahamic religions. #BJPInsultsThiruvalluvar #HinduThiruvalluvar pic.twitter.com/wYRpnkv2Sl

— Kabilan~கபிலன் எண்ணங்கள் (@localtamilan) November 3, 2019
The saint was also shown wearing Rudraksha beads on his neck, along with vermillion smeared on his body and head. People protested when they saw this image of Thiruvalluvar, which usually involves the poet in white robes.
Check the image of Thiruvalluvar which people are used to seeing:-
This👇 is my Thiruvalluvar, the and only Thiruvalluvar known to me and not the saffron clad.

#BJPInsultsThiruvalluvar pic.twitter.com/HV3BykTUpc

— பொன்னன் (@Ponnane) November 3, 2019
According to a News Minute report, MK Stalin, the DMK President responded to the tweet stating that BJP's attempt to appropriate Thiruvalluvar is a betrayal for Tamils. In a tweet, he said, "How much ever you colour, it will fade. Stop colouring and read Tirukkural and reform yourselves."  In response to the BJP's tweet, Communist Party of India (Marxist) released a statement condemning the action that involved changing the identity and saffroning the legendary poet who is revered as a saint.