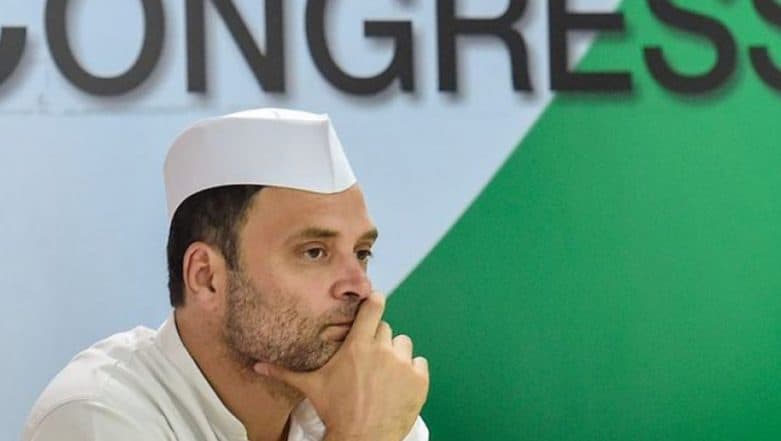 New Delhi, June 26: As All India Congress Committee (AICC) president Rahul Gandhi has announced his decision to quit from the position of president in the wake of party's debacle in 2019 Lok Sabha Elections, the Indian Youth Congress (IYC) workers on Wednesday, June 26, 2019, will appeal to the Gandhi Scion to continue as the Congress chief. Rahul Gandhi Reveals Who Will Decide on Next Congress Chief.
According to reports, as many as 4,000 to 5,000 workers will make the appeal to Gandhi to not vacant the post. President of Youth Congress, Keshav Yadav, speaking to ANI, said "The workers will gather at his residence in New Delhi. We will assure him of our support." Adhir Ranjan Chowdhury Appointed As Congress Lok Sabha Leader As Rahul Gandhi Remains Reluctant.
Vice president of the Youth Congress, B Shrinivas echoed similar sentiments. "As many as 12 crore people have voted in favour of Rahul Gandhi. He must not quit from the post of president," said Shrinivas. On May 25, the Congress Working Committee (CWC) had rejected Gandhi's resignation and requested him to continue to lead. Rahul Gandhi Breaks Silence Amid Congress Leadership Crisis, Says '52 MPs Enough to Make BJP Jump Every Day'.
The recent move from IYC comes at a time when Rahul Gandhi has already told media that he will have no role in picking his successor but the Congress is trying its best to retain him. Gandhi, who had lessened his communications with party leaders, has agreed to meet a delegation of INC leaders from Haryana and Maharashtra. Both the states will go into polls later this year.
In general elections, the Congress party just won 52 of the 543 parliamentary seats, only eight seats more than 2014 tally of 44 seats. The grand old party could not win a single Lok Sabha seat in as many as eighteen states and union territories.