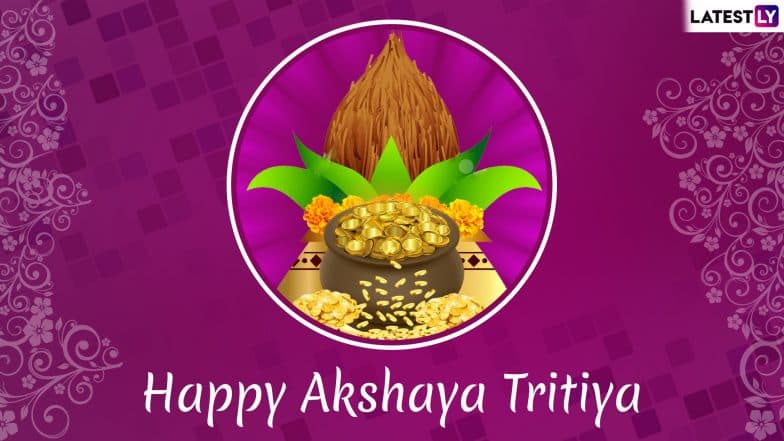 Akshaya Tritiya 2019 is being celebrated across India and the world on Tuesday, May 7. The festival of Akshaya Tritiya, also known as Akha Teej, is celebrated as an auspicious day by the Hindu communities. The day is ruled by Lord Vishnu and is believed to bring good luck. People celebrate the day by buying Gold as it is believed that buying Gold on Akshaya Tritiya will bring prosperity in the future. Akshaya Tritiya 2019 Date and Time: When Is Shubh Muhurat to Buy Gold and Silver on Akha Teej This Year.
The word Akshaya means 'never diminishing'. hence, it is believed that the puja performed or the fast observed on the day of Akha Teej will bring long-term benefits for devotees. Akshaya Tritiya falls in the Vaishakha month during Shukla Paksha Tritiya. The Jain community celebrates the day to commemorate Tirthankara Rishabha's year-long fast, which he ended by consuming sugarcane juice. Flipkart's Flipstart Days Sale: Celebrate Akshaya Tritiya 2019 With Big Discounts on Laptops, Speakers, Smart TVs & Accessories.
Akshaya Tritiya Shubh Muhurat
According to the Drik Panchang, the puja shubh muhurat will have a duration of six hours and 37 minutes. The muhurat will begin at 5:40 am and end at 12:18 pm. The Akshaya Tritiya tithi will begin at 3:17 am on May 7 and will end at 2:17 am on May 8.
Meanwhile, the shubh muhurat to buy Gold and Silver on Akshaya Tritiya this year is from 06:11 to 26:17.
Morning Muhurta (Char, Labh, Amrit) = 09:23 - 14:11
Afternoon Muhurta (Shubh) = 15:47 - 17:23
Evening Muhurta (Labh) = 20:23 - 21:47
Night Muhurta (Shubh, Amrit, Char) = 23:11 - 26:17+
Watch: Akshaya Tritiya 2019 wishes
Akshaya Tritiya Puja Vidhi
Most people observe fast on the day of Akshaya Tritiya and also worship Lord Vishnu and Goddess Parvati. The puja vidhi for Akshaya Tritiya is as follows:
Wake up early in the morning.

Clean the place where the puja is to be performed and wear clean clothes.

Begin the puja by offering sandalwood paste and flowers to Lord Vishnu and chant this mantra while doing this - "Yam karothi thruthiyayaam Krishnam chandanam bhushitham, Vaishakhasyasithe pakshe Sayathyachyutha mandiram"

Keep sesame seeds, rice, chana dal and sweets along with tulsi for prasad.

Recite 'Vishnu Sahasranama' and mantra.

Donate to needy and also the brahmins. While making the donations, chant this mantra - 'Sri parameshwara preethyartha muda kumbhadaanoktha phala vaapyartham, brahmana yodakumbha daanam karishye thadanga kalasha pujyadhikam cha karishye.'

Worship Maa Parvati and offer Wheat, Chana daal, Milk, gold, cloth and Kalash (filled with water).

One should also then feed the poor and offer grass to cow and calf.

On Akshaya Tritiya, people essentially worship Lord Parasurama, the sixth incarnation of Lord Vishnu. The mantra for Parasurama Jayanti is- "Jamadagnya mahaveera kshatriyaantha kara prabho, Gruhanarghyam mayadattam krupayaa parameshwaraa.'
Meanwhile, besides buying Gold and praying for prosperity, Akshaya Tritiya is also considered an auspicious day to perform weddings. The day witnesses several weddings every year. LatestLY wishes you all a Happy Akshaya Tritiya and prosperous life ahead.