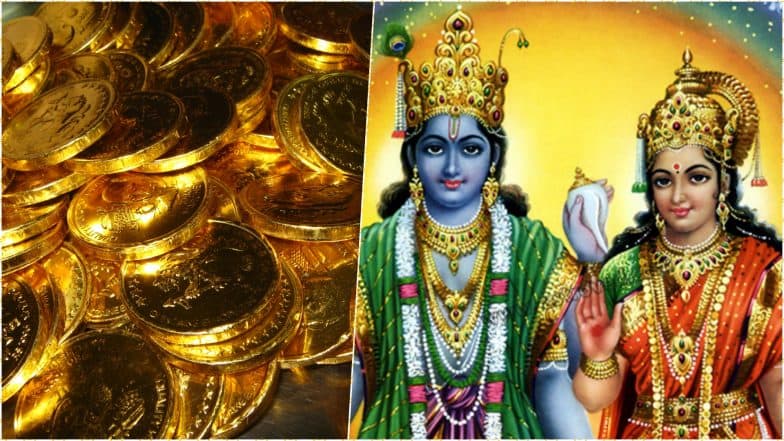 Akshaya Tritiya, also known as Akti or Akha Teej is a popular festival celebrated by Hindus and Jains in India. Considered highly auspicious time it falls during Shukla Paksha Tritiya in Vaishakha as per the Hindu calendar. Vaisakha 2019 began on April 21 (Sunday) and ends on May 21 (Tuesday). This year Akshaya Tritiya 2019 date is May 7 (Friday). The word "Akshaya" means "never diminishing," which is why Akshaya Tritiya or Akha Teej is associated with wealth, prosperity, abundance and happiness. It is that time of the year when people throng to buy gold and silver on shubh muhurat (auspicious time). In this article, we will learn about Akshaya Tritiya 2019 shubh muhurat, an auspicious time to buy gold, Akshaya Tritiya Puja muhurat, significance and more. Buying Gold on Akshaya Tritiya? Here's Why the Tradition is Followed on this Festival of Goddess Lakshmi.
As mentioned above, "Akshaya," a Sanskrit word means "never diminishing." This period is considered highly auspicious and benefitting. It implies that whatever a person does during this phase never fades out. This is why the practice of buying gold is so prevalent as it symbolises the constant flow of wealth and prosperity in one's life. Not only worldly ways, but people also indulge in Japa (reciting mantra), Yajna (a ritual done in front of sacred fire), Pitra-Tarpan (seeking blessings from ancestors' souls) and Dan-Punya (charity). One believes Akshaya Tritiya to bring good luck and success by doing all these rituals and following traditions.
Akshaya Tritiya Puja Shubh Muhurat
Akshaya Tritiya falls on May 7, 2019 (Friday). Ideally, Akshaya Tritiya falling on a Rohini Nakshatra day with Wednesday is considered highly auspicious. According to the Drik Panchang, this year, Akshaya Tritiya Puja Muhurat is 06:11 to 12:35 with Tritiya Tithi beginning at 03:17 on May 7 and ending at 02:17 on May 8. A duration of six hours 23 minutes will be there to perform the puja.
What is The Auspicious Time to Buy Gold?
Gold is considered to be the most precious and auspicious metal since the Vedic times. Whoever can afford, tries to buy gold on auspicious occasion as it is a symbol of wealth, power and prosperity. Buying gold is the most important ritual performed on the day of Akshaya Tritiya. According to the Drik Panchang, here is Shubh Muhurat to Buy Gold on Akshaya Tritiya:
On May 06, 2019 (Monday) - 27:18 to 30:11
Auspicious Choghadiya timings between 27:18 to 30:11
Night Muhurta (Shubh, Amrit, Char) = 27:18+ - 30:11+
Akshaya Tritiya Muhurat to Buy Gold
May 07, 2019 (Tuesday) - 06:11 to 26:17
Auspicious Choghadiya timings between 06:11 to 26:17
Morning Muhurta (Char, Labh, Amrit) = 09:23 - 14:11
Afternoon Muhurta (Shubh) = 15:47 - 17:23
Evening Muhurta (Labh) = 20:23 - 21:47
Night Muhurta (Shubh, Amrit, Char) = 23:11 - 26:17+
Which God is Worshipped on Akshaya Tritiya?
According to the Hindu mythology, Akshaya Tritiya day is ruled by God Vishnu, the preserver in the Hindu Trinity (Lord Shiva and Lord Brahma are the other two). The birth anniversary of Parashurama, the sixth avatar of Vishnu in Hinduism usually falls on the same day as Akshaya Tritiya.
Among other important legends associated with the day are - Treta Yuga began on Akshaya Tritiya. Lord Ganesha along with Veda Vyasa began writing the epic Mahabharata on this day. Annapurna, the goddess of food and nourishment in Hinduism was born on Akshaya Tritiya. The holy river of Ganga descended on earth on this day. Kubera, the Lord of Wealth, was made the treasurer after worshipping Goddess Lakshmi.
On Akshaya Tritiya, the Lakshminarayana form of Lord Vishnu is worshipped. Devotees observe fast, while people in business pray for a prosperous year ahead. There is no malefic time on Akshaya Tritiya, and one can start a new venture on the day.