Karwa Chauth, a Hindu festival celebrated by married women in the country falls on October on 27, 2018. Women fast on the festival praying for the long lives of their husband. The festival is also observed by unmarried women who pray for prospective grooms. Traditionally, Karwa Chauth believes in strengthening the relationship of a husband and wife. On Karwa Chauth, people send messages celebrating love and relationship to married couples wishing them a great future.
According to the Hindu calendar, Karwa Chauth falls in the month of Karthik during Krishna Paksha Chaturthi. The festival is widely celebrated in the northern states including Rajasthan, Himachal Pradesh, some parts of Uttar Pradesh, Haryana, and Punjab.  On Karwa Chauth, women wake up before sunrise and eat sargi which is prepared by a mother-in-law for her daughter-in-law. Karwa Chauth 2018: Know All About Sargi, Its Importance and Foods Included.
Following which, women abstain from food and water until sunset. They break their fast only after seeing the risen moon and their husband feeds them the first morsel. The day holds great importance in Hindu traditions and also has mythological stories attached to it narrating its origin. Karwa Chauth 2018 Significance: Know The History, Puja Muhurat, Vidhi and Mantra For The Festival.
As Karwa Chauth approaches, we have compiled a list of WhatsApp messages, Facebook Status, SMS, Karwa Chauth GIFS that you can send people celebrating the festival.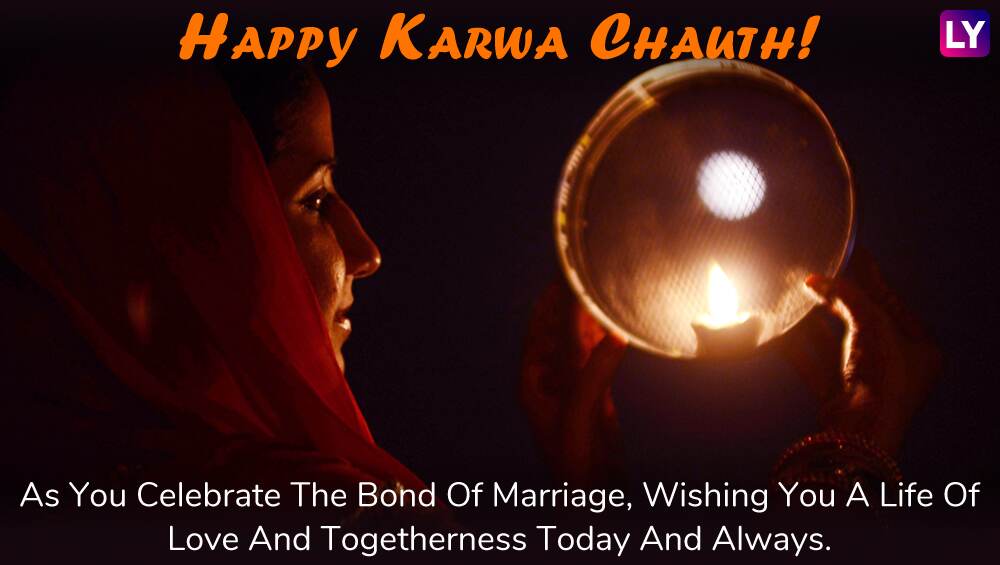 As You Celebrate The Bond Of Marriage, Wishing You A Life Of Love And
Togetherness Today And Always. Happy Karva Chauth.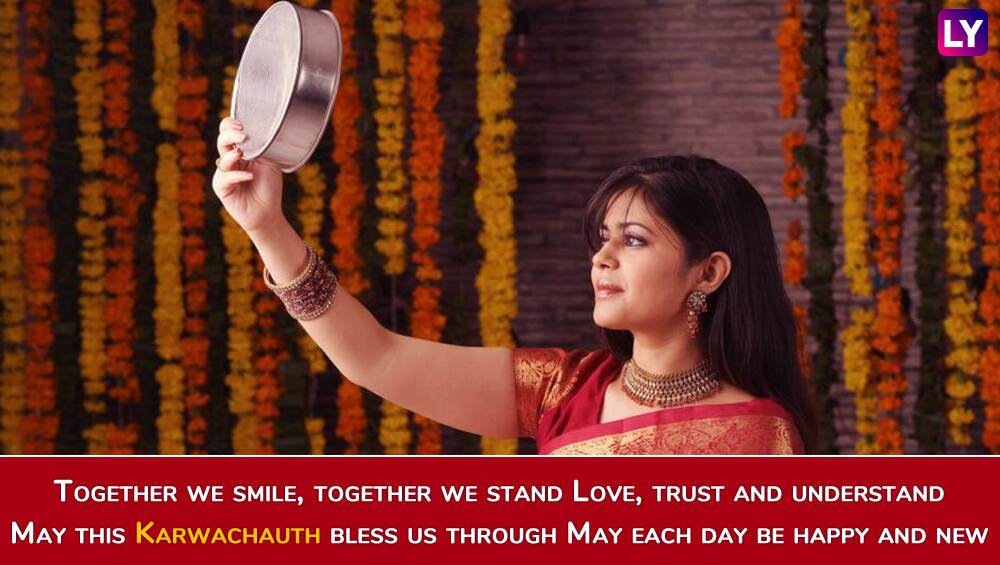 Together we smile, together we stand love, trust and understand. May this Karwachauth bless us through, May each day be happy and new.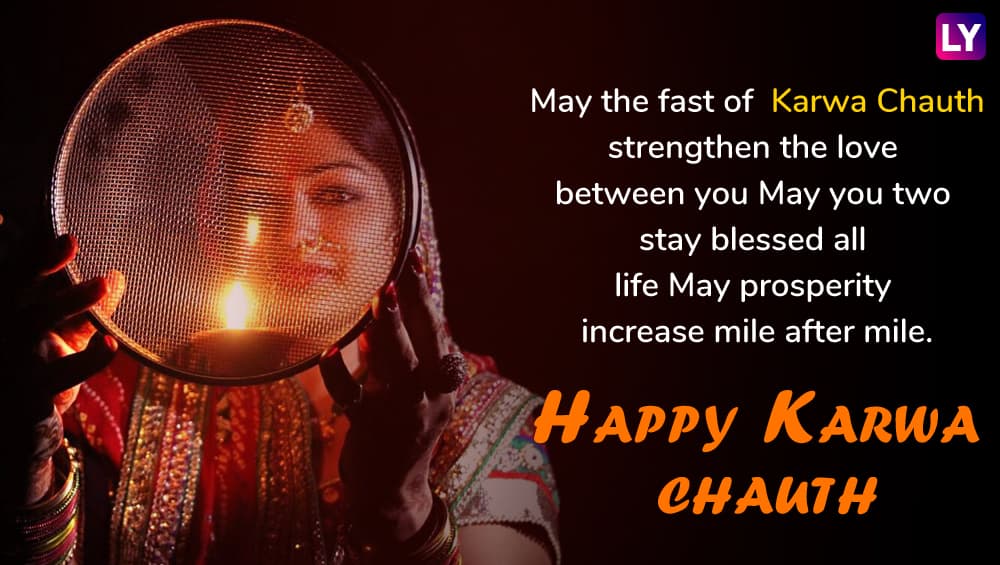 May the fast of Karwa Chauth strengthen the love between you May you two stay blessed all life May prosperity increase mile after mile. Happy Karwa Chauth.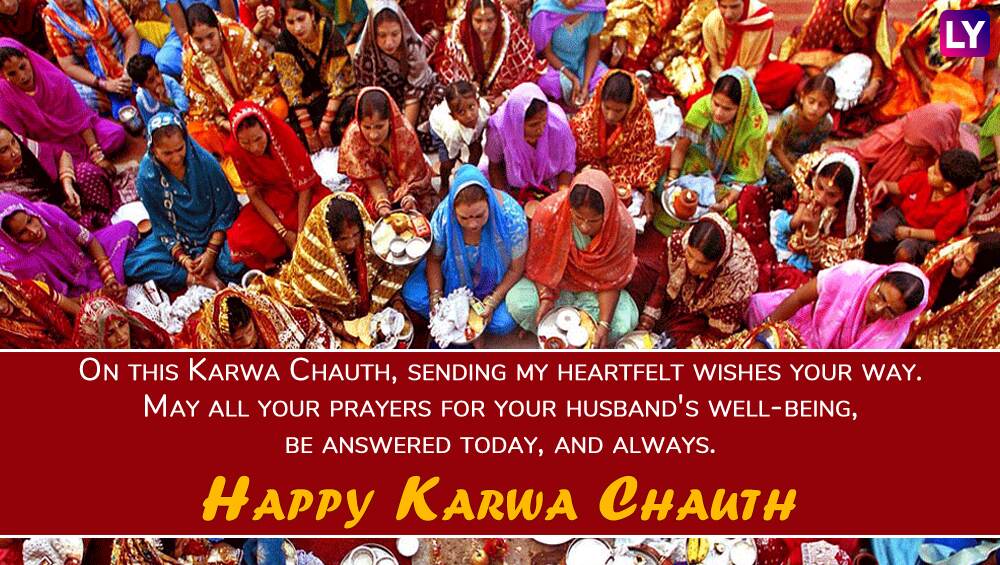 On this Karwa Chauth, sending my heartfelt wishes your way. May all your prayers for your husband's well-being, be answered today, and always.
Happy Karwa Chauth!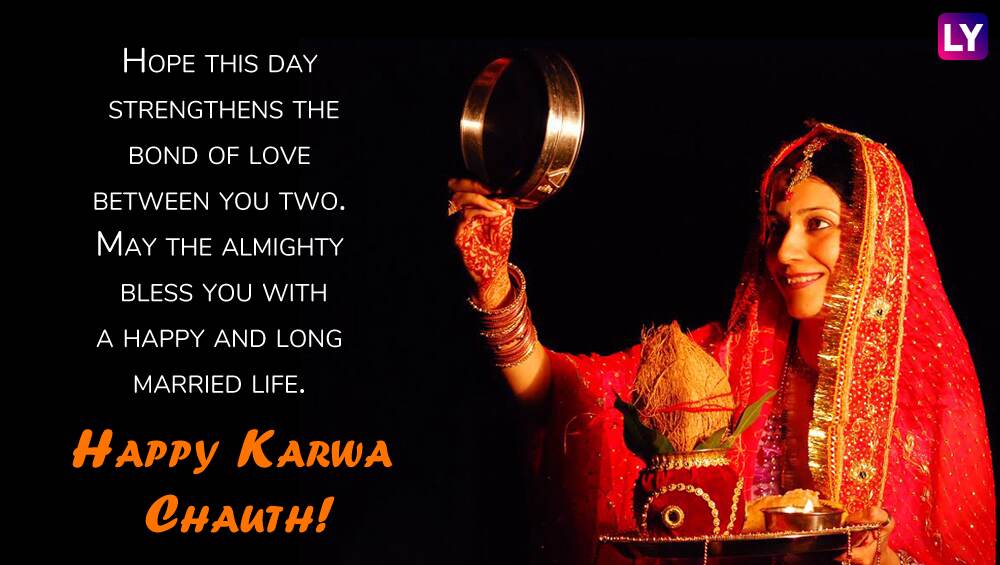 Hope this day strengthens the bond of love between you two. May the almighty bless you with a happy and long married life. Happy Karwa Chauth!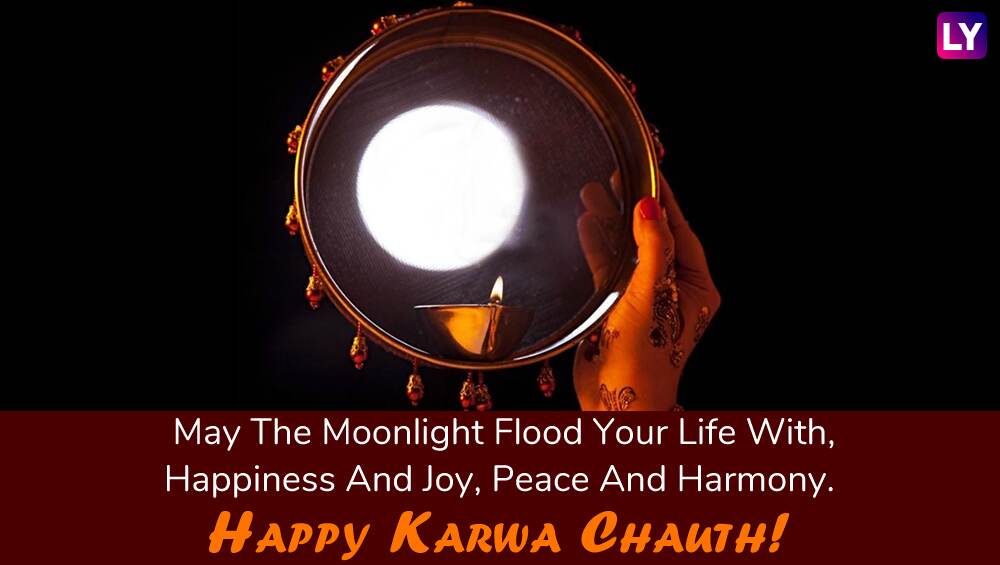 May The Moonlight Flood Your Life With, Happiness And Joy, Peace And Harmony. Happy Karwa Chauth.
Married women dress up as brides by adorning red colour. Most of them prefer draping colourful saris for the ceremony. They apply henna on their hands and meet other women observing the fast. They celebrate the day with songs, music and instruments. Exchanging clay plots is an important ritual observed during Karwa Chauth. We wish all our reads a Happy Karwa Chauth!