Today marks a very important celebration, the day of Teachers' Day 2019. Marking the birth anniversary of Dr Sarvapalli Radhakrishnan, the day salutes India's second president and a great educationist. This day is not only a special one for all the teachers, but it is their students who make it a special day for them. Several students share their heartfelt greetings and messages with their favourite Gurus and wish them a Happy Teacher's Day. On Teacher's Day 2019, if you too are looking for some quotes, images, messages, greetings and WhatsApp stickers. You can download these for free and send them across to your teachers or share with them over Facebook. Teachers' Day 2019 Information: Know About The Day Observed in the Memory of Former Indian President Dr Sarvepalli Radhakrishnan.
This day honours S Radhakrishnan, who was one of the greatest teachers and dedicated his life towards education. He inspired many young minds to seek education as a priority. When asked to mark his birthday as Radhakrishnan Day, he refused and suggested to celebrate it as Teachers' Day. The day is marked as Teacher's Day since the year 1962. He was one to say, "teachers should be the best minds in the country." And every teacher, be it school or college plays a significant role in the life of a student. So if you too wish to express your gratitude towards your mentor, given below is a collection of Happy Teachers' day wishes, messages, greetings, GIFs, quotes and WhatsApp Stickers.
Teachers' Day 2019 Greetings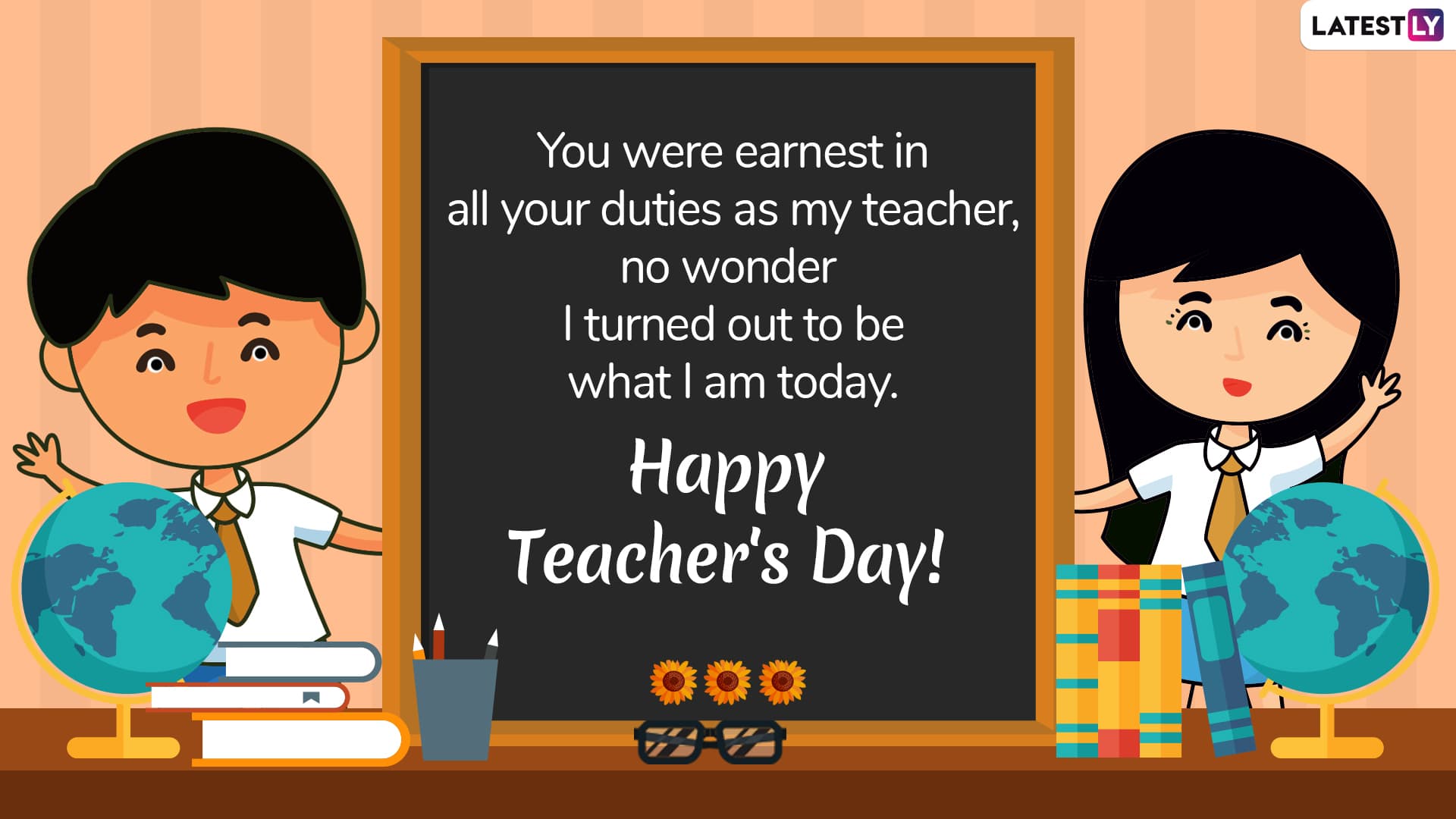 Message reads: You were earnest in all your duties as my teacher, no wonder I turned out to be what I am today. Happy Teacher's Day!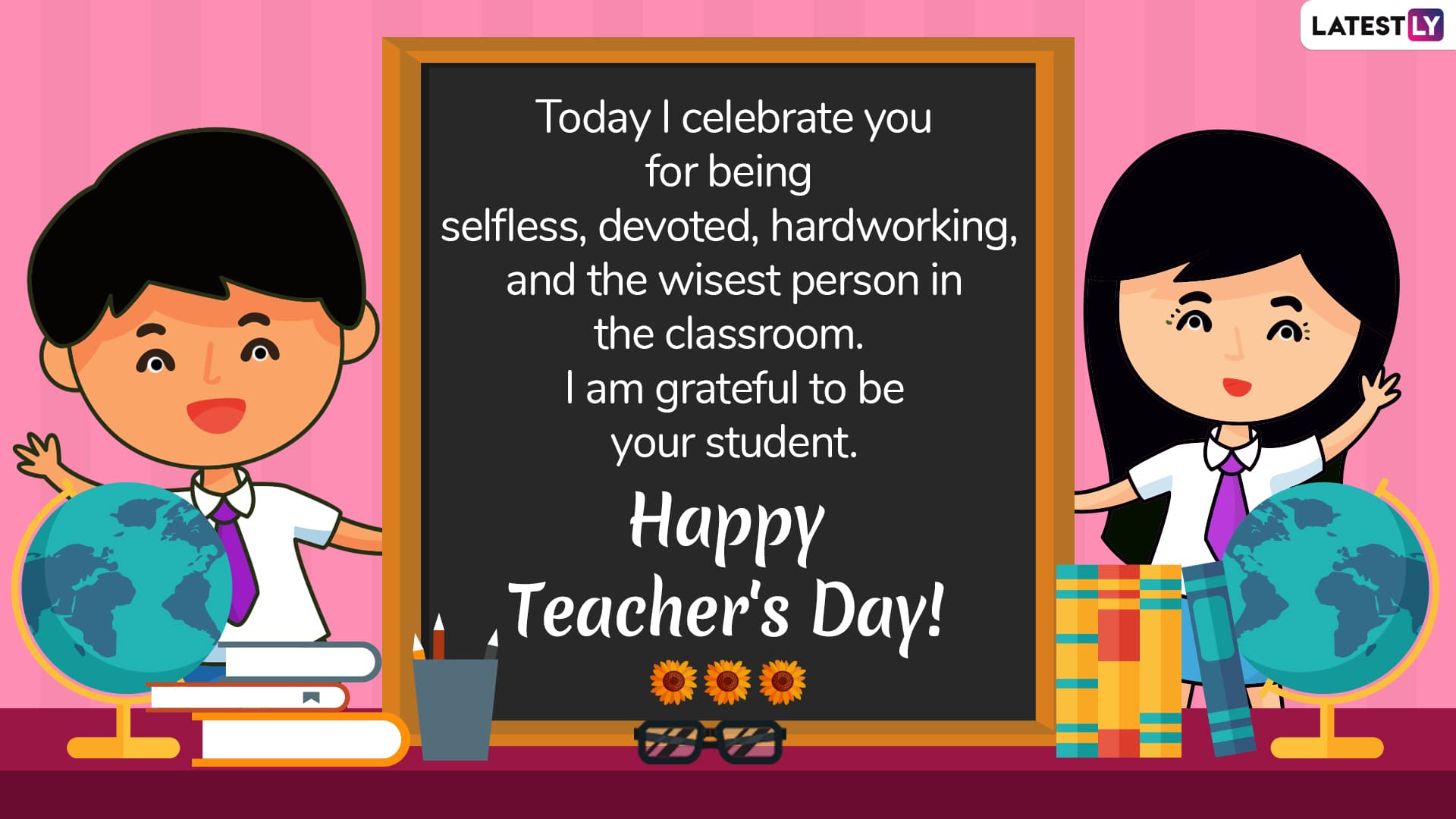 Message reads: Today I celebrate you for being selfless, devoted, hardworking, and the wisest person in the classroom. I am grateful to be your student. Happy Teacher's Day!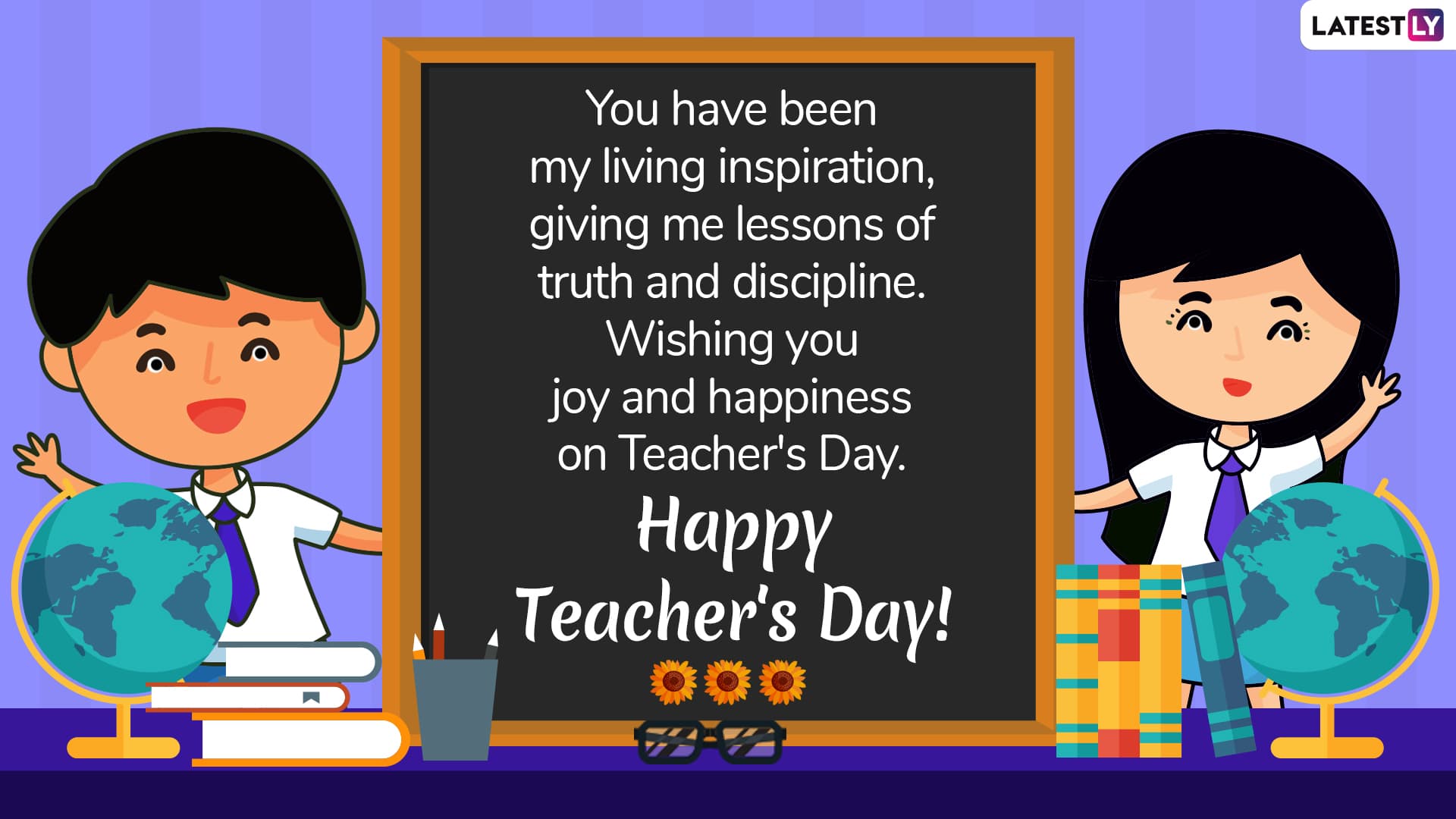 Message reads: You have been my living inspiration, giving me lessons of truth and discipline. Wishing you joy and happiness on Teacher's Day. Happy Teachers Day!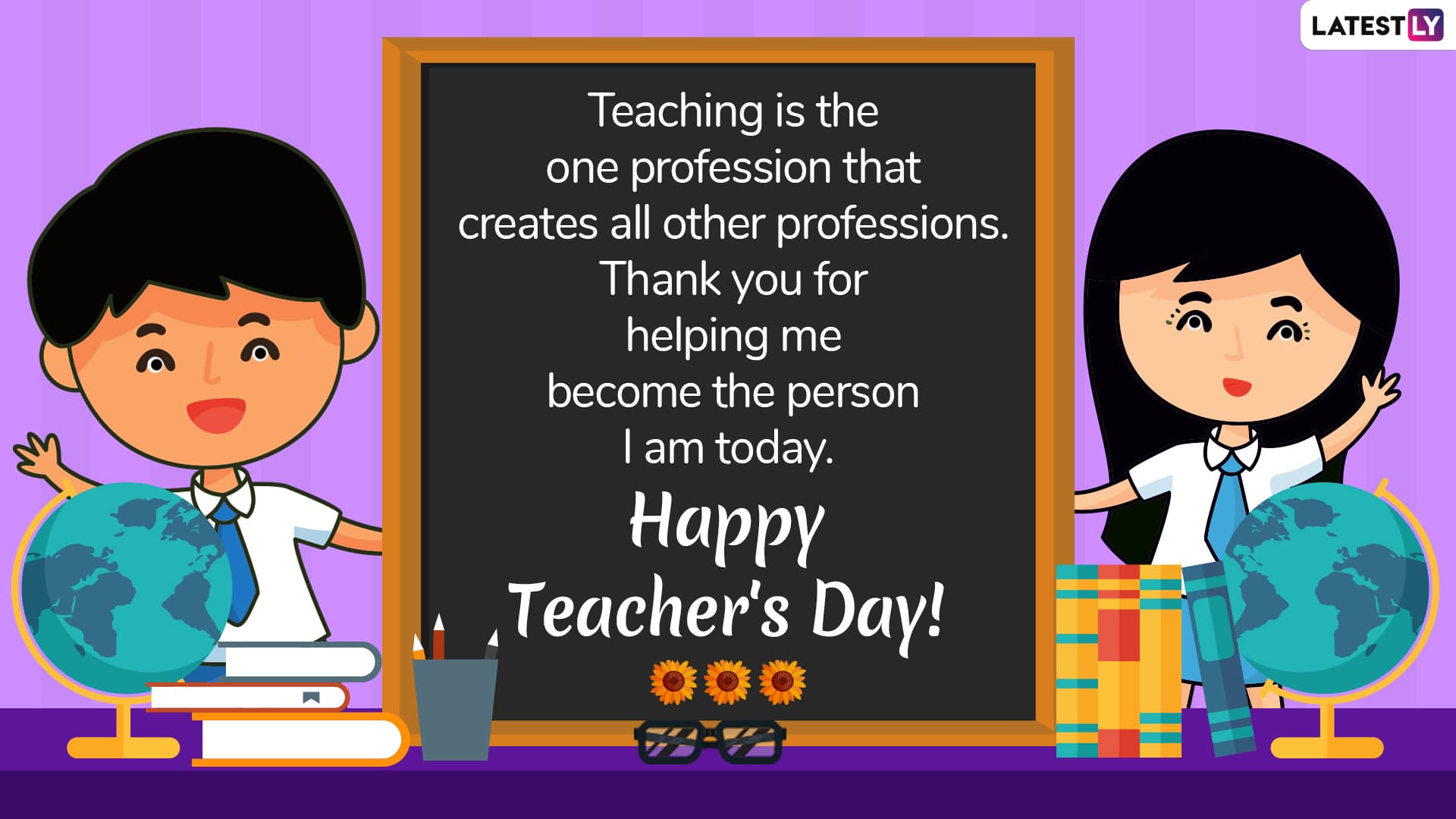 Message reads: Teaching is the one profession that creates all other professions. Thank you for helping me become the person I am today. Happy Teacher's Day!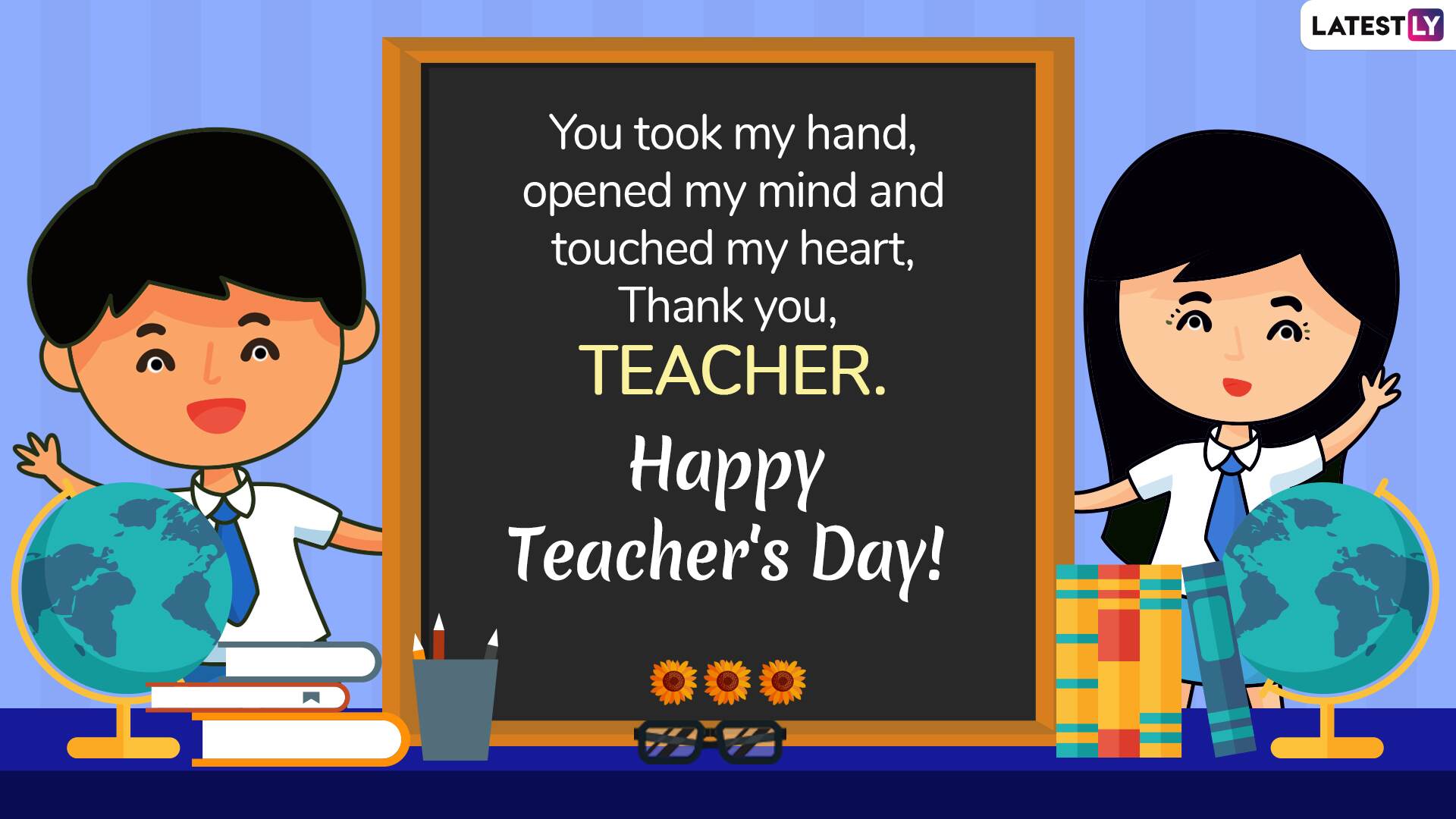 Message reads: You took my hand, opened my mind and touched my heart, Thank you, Teacher. Happy Teacher's Day!
Teacher's Day GIFS
Teacher's Day WhatsApp Stickers
Nowadays, it is quite common to connect with teachers and professors over mobile phones. So if you are in touch with your teachers over WhatsApp then you can also send the animated stickers on WhatsApp. You can download special WhatsApp sticker packs for Teachers' Day and send them to your professors.
Watch Video of Teachers' Day Greetings:
We hope the above collection of images, messages and greetings help you to send out your best wishes to your mentor, guide or professor. Send out these greetings and make them feel special on this day. We also wish you all a very Happy Teachers' day 2019!
(The above story first appeared on LatestLY on Sep 05, 2019 07:00 AM IST. For more news and updates on politics, world, sports, entertainment and lifestyle, log on to our website latestly.com).