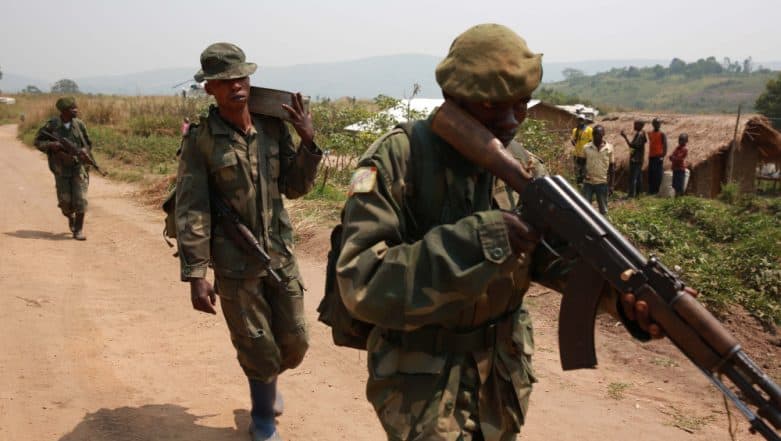 In a horrific turn of events, armed men barged into an Ebola treatment centre in Congo and gunned down a policeman while injuring a healthcare professional. The gunmen stormed the institute situated in the city of Butembo, early on Saturday morning. The African nation is already in the middle of a deadly Ebola outbreak when the attack took place.
The attack, which started at six in the morning, resumed after 30 minutes. The police and the army put up tough resistance. While one of the policemen was gunned down, they still managed to catch hold an attacker who was from the Mai-Mai rebel group. Ebola in DR Congo: Vaccine in Exchange for Sex.
The centre had recently reopened after it was shut down, following a similar attack last month. Congo's Ministry of Health had also shared a picture of healthcare workers on Twitter shortly after it reopened. But this attack happens to be the third among the series of attacks the centre has faced. The Doctors Without Borders had to call off their work in the region in the light of the attacks.
The brazen attack came hours before the World Health Organization's director-general Tedros Adhanom Ghebreyesus' visit to the centre, who surveyed the place nevertheless. Vaccines For Ebola Can Now Protect Us From The Deadly Disease. 
Speaking after his four-hour visit to the Butembo clinic, Ghebreyesus told reporters that the violence in the region was stymying the progress they had made in fighting the outbreak. He added, "...we have no choice except to continue serving the people here, who are among the most vulnerable in the world."
Butembo Mayor Sylvain Kanyamanda told the AFP that the attackers were terrorists, who wanted to kill the ailing.
Doctors Without Borders or Medecins Sans Frontiers (MSF) revealed that 40 percent of Ebola deaths had happened in communities rather than in the treatment centres.
The deadly outbreak that begun in North Kivu last August, spread to the neighbouring Ituri province. A total of 561 lives have been claimed out of the 894 reported ones.
Who are the Mai-Mai?
Several attempts to clamp down the Ebola outbreak in the Congo has been met with failure due to the presence of militia in the region. The present outbreak happens to be the 10th one documented in the country, which has already killed 600 people.
Health centres have been targeted by rebel groups such as the Mai-Mai who protest against the presence of aid workers in the area. The region has a history of armed conflict with the outsiders. And the locals' mistrust of the aid workers doesn't help.
The Mai-Mai were banded together to resist invasions by the Rwandan military forces in the 1990s, but since then, they have broken up into many splinters, some even resorting to looting and plundering for personal gains.