While Kim Kardashian is on a spree of promoting her new 90s beauty range, the beauty mogul shared a bunch of pictures of her in her teens, yesterday and it is blowing people's minds. Her new '90s inspired makeup range is being promoted on her social media since a few weeks now, but just yesterday, Kim K took to her Instagram story to share her 90s pictures of her rocking a total grunge look as throwback as well as giving us a sneak peek of the inspiration behind her latest cosmetic line. The pictures of her from the 90s, more precisely, her style from her teens was the real inspiration behind Kim K's 90s makeup collection, she expressed.
The 38-year-old beauty queen posted the images with dark lipstick, baggy clothes and "beeper, choker, dark lip, Adidas, fat laces" as she described on her Instagram stories. The 90s style was a lot about baggy clothes and in terms of makeup, the emo style had us completely digging a decade ago.  Dark lipsticks from the 90s were the inspiration behind Kim Kardashian new lipstick shades, 90's Chic, 90's Glam and 90's Style. Another snap of her hanging out with friends which she revealed inspired her '90's Chic' colour. We're totally loving Kim Kardashian's throwback look and how amazingly she carried the 90s style. The look is also quite bold, of course, it is Kim K who never shies away from rule-breaking attires, remember when Kim Kardashian Went Braless in a Nipple-Flashing Tank Top While Enjoying a Day at Disneyland With North West?
Check pictures: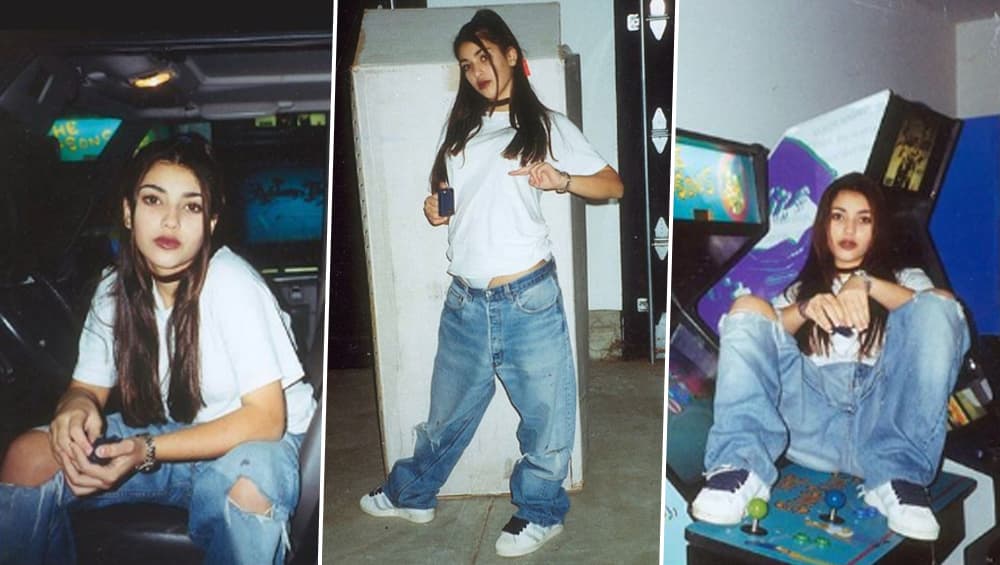 Although, we cannot help but notice how different and natural she looks in her throwback picture. Also, while we are totally crushing on her 90s throwback style, we cannot her but crush on her bold, low-waist baggy pair of jeans that is flashing her undies. Uber cool, no?