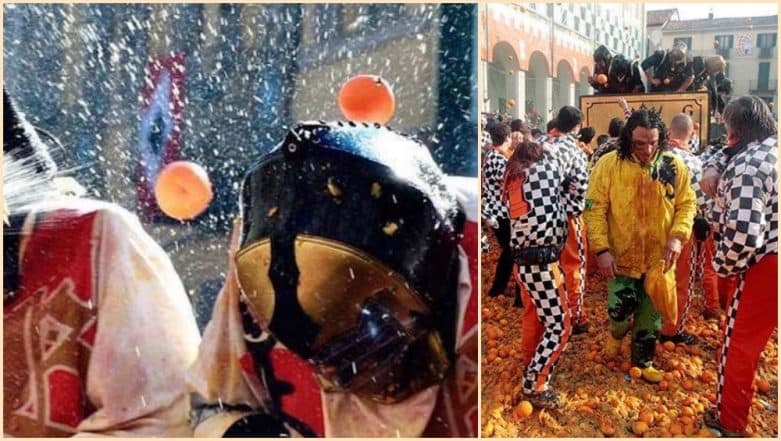 The European carnival season was in full swing on March 3, with revellers hurling fruit or simply giving their inner child free rein. In the annual Battle of the Oranges in this northern Italian town, people throw oranges at each other in a symbolic display of rebellion. Hundreds of people attended the event in Ivrea, a town in the north of Italy and the fantastic moments were shared on social media with Twitter, and YouTube filled with Battle of the Oranges 2019 pictures and videos. Although, the tradition's origins are unclear, it is believed it dates back centuries, and varied cultures and significance are surrounded in its celebration. Like the Festival of Colours 'Holi', These Festivals Around the World are Equally Fun to Celebrate. 
The origins of the orange fight are said to date back to around 1200 AD. As per legend, the town's evil lord attempted to rape a miller's daughter on the eve of her wedding. The girl named Violetta the cut off his head and presented it to the townspeople who were then freed from the wicked tyrant. They later stormed his castle and set it on fire. Again, another version states of the town's poor people who were given pots of beans by the feudal lords. The people threw the seeds on the floor in protest at the miserly gesture and eventually, the beans were swapped for oranges. Battle of the Oranges takes place every year.
Watch Video of Battle of the Oranges
The town divides into nine squads for the festival. People dress in battle attire and spend three days throwing oranges at each other. It is the most significant food fight in Italy. There are about 46 horse-drawn carts which go around the town, each with castle defenders inside with helmets and pads. Judges announce the best team at the end of the festival.