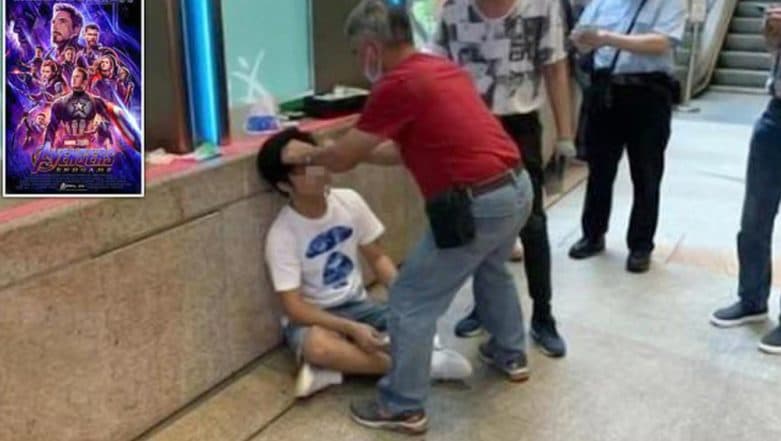 Not everyone has the opportunity to watch Avengers: Endgame first day, first show, which means the ones who haven't watch the mega Marvel movie yet, must walk around with blinders and earplugs all around. Even after the directors of Avengers: Endgame wrote an open letter urging people to stop giving out spoilers, it doesn't seem like the piece of advisory has done any good. A most recent case from Hong Kong will show you the price you must pay if you plan to give out the spoilers of Avengers: Endgame and it is beyond an open letter. Avengers: Endgame Movie Spikes Porn Searches for 'XXX' Sex Videos of Captain Marvel and Black Widow.
A man was beaten up outside a cinema hall in HongKong because he loudly blurted out the end of the movie Avengers: Endgame. A photo of the man left bloodied up outside the movie hall is going viral where he can be seen holding his head which seems to have been hurt. Another man is trying to help him out with his injuries, supposedly. The incident reportedly happened outside a cinema in Causeway Bay, Hong Kong. Hong Kong is one of the places where this blockbuster Marvel movie released on April 24 along with other countries like Taiwan, China, Malaysia, Singapore, and South Korea.
Take a look at the picture of the man beaten up for revealing the spoilers:
Man pictured beaten after he was 'attacked for loudly revealing spoilers about new Avengers movie' https://t.co/e46IfBfSV8 pic.twitter.com/ksJ5wEFt55

— Siglov Freudivan (@DerangedRadio) April 27, 2019
While this picture is going viral, there isn't complete clarity on the authenticity of the incident, However, most local media are approving of the authenticity of the insane incident. Avengers: Endgame marks the final film within the Marvel Cinematic Universe's current generation, which comprises 22 films, including 'Spider-Man: Homecoming' and the recently released 'Captain Marvel'. It will also be the last Marvel movie for some of the key actors, including Chris Evans as Captain America.