While Marvel fans are busy online either checking-in I max, reading spoilers or various theories or even sharing memes there is a part of Marvel fans that are literally looking up for porn based on Marvel characters. Marvel's latest film, Avengers: EndGame has conquered the world, including PornHub. Along with theatres running 24x7 to accommodate the high demand of the viewers, in the USA and even in India, some of the people can't get enough of Captain Marvel and Black widow on PornHub.  Avengers: EndGame has sent the world to frenzy after its official release on April 26 worldwide, except in a few places like Australia where it released on April 24.
According to reports by Pornhub, its search traffic for Avengers and its main characters has spiked in the days leading up to the film. People are going bonkers searching for XXX sex videos having most Marvel characters such as Captain Marvel, Black Widow and Gamora. The insight reports revealed by Pornhub examined that everything was normal before April 18 after which it the search results went up by 1,779 percent in one day after which it spiked to 2,912 percent on April 19th. According to the result, the women of the Marvel universe as in Captain Marvel topped the list. The second was Black Widow and surprisingly third position was taken by Spiderman. Followed by Spider-man were Hulk, Captain America, Scarlett witch, Gamora, Thor and poor guys Iron man and Black Panther in the end.
Take a look at the PornHub insights picture: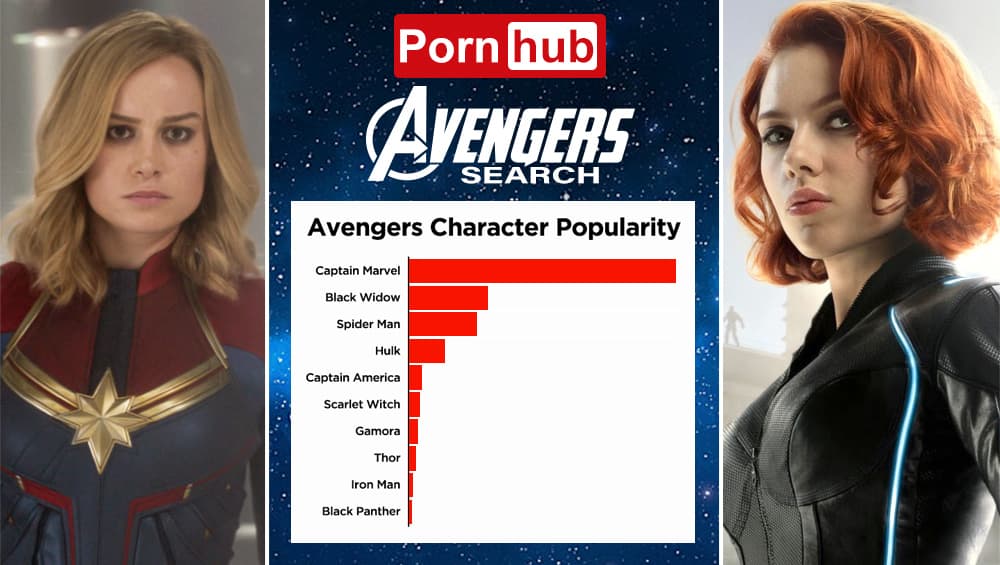 The film marks the final film within the Marvel Cinematic Universe's current generation, which comprises 22 films, including 'Spider-Man: Homecoming' and the recently released 'Captain Marvel'. It will also be the last Marvel movie for some of the key actors, including Chris Evans as Captain America.