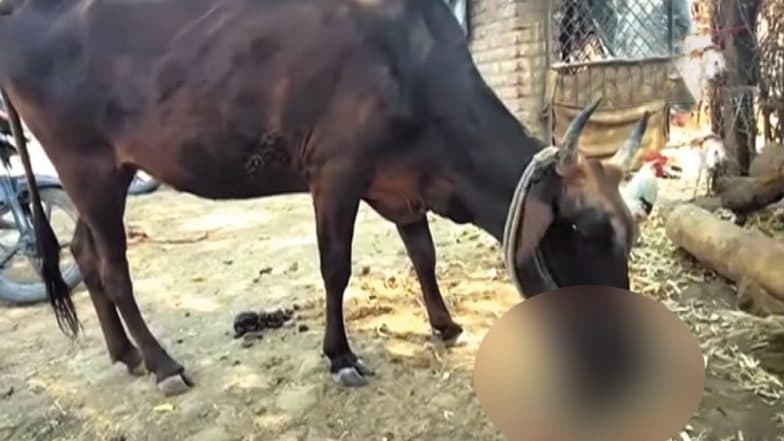 In India, a cow is considered and worshipped like a mother. And in recent times, a lot of cow vigilante groups have formed in the country to protect cow slaughter. Spotting cow herds in the open is quite common, usually around grasslands in rural areas. But while we may all have seen cows grazing on garbage like plastics, a new video is going viral which shows a cow eating a live chicken! Dismissing all beliefs of being a herbivorous animal, this video from Maharashtra shows a cow eating a chicken. The shocking video is now going viral. Cow Vigilantism Unacceptable, State Governments Should Prevent Such Incidents, Says Supreme Court.
The video is apparently from a village of Buldhana in Maharashtra. The video has shocked the villagers as well as doctors alike. According to Dr Vaishali Uike, the cow could have had some sort of mineral deficiency. Cows are mostly herbivorous and eat dried leaves and twigs. In case of any unavailability of food, they resort to eating garbage or even plastics. The doctor also mentioned, "This is not at all a common behaviour, it could be a result of the cow not having a fulfilling meal or just catching on a bad habit." Man Teases Lioness With Live Chicken in Gir, Gets Arrested (Video).
Watch Viral Video of a Cow Eating a Chicken in Maharashtra:
Cows are typically herbivorous and mostly eat grass, so it is really shocking to see a cow eating up the whole live chicken. In recent times, while some people thought of cow as meat, the people have banned cow slaughter. Cow vigilantism became a menace when people died due to violence inflicted on them in the name of saving and protecting the cows.