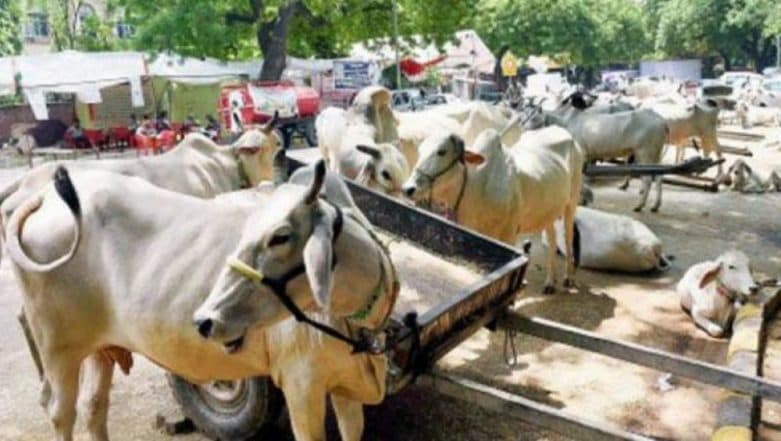 New Delhi, May 16: The National Green Tribunal today expressed concern over the "horrible" conditions cows and buffaloes have to face in the national capital, saying the milch animals were forced to eat plastic which affects the human health.
A bench headed by acting Chairperson Justice Jawad Rahim said the cattle in the city were forced to roam on the road and that no proper medical care was given to them.
The green panel directed the Animal Husbandry Department to conduct an inspection of dairy farms in Delhi and asked it to submit a detailed report by July 19.
It also asked the AAP government, the Delhi Pollution Control Committee, and the city's municipal corporations and the police to provide the required assistance to the officers of the Animal Husbandry Department.
"Have you seen the condition of cows in the city. They have been put in a horrible condition. These animals are not fed properly, not given medical care. They eat plastic and other rubbish items from the waste dumps which ultimately affects the human health. The polluting dairy farms should be shut down," the bench observed.
The tribunal also permitted the petitioner in the case to be part of the inspection team and said that "the applicant shall be intimated of the date and time of visit".
Advocate Balendu Shekhar, appearing for the East Delhi Municipal Corporation, said it was the responsibility of the Delhi government to look after animals and the corporation has a very limited role to play.
The tribunal was hearing a plea filed by animal rights activist Nuggehalli Jayasimha seeking directions to penalise and shut down illegal dairy units in Delhi.
The plea claimed that the unauthorised dairies were causing air and water pollution leading to sanitation and health problems for both the cattle and residents of the city.
It said dairy-owners do not adhere to the provisions of the Environment (Protection) Act, 1986 and Solid Waste Management Rules. The petition, filed through advocate Priyanka Bangari, also alleged that waste from dairies was one of the major pollutants in river Yamuna, besides domestic waste and dumping of other material including animal carcasses.