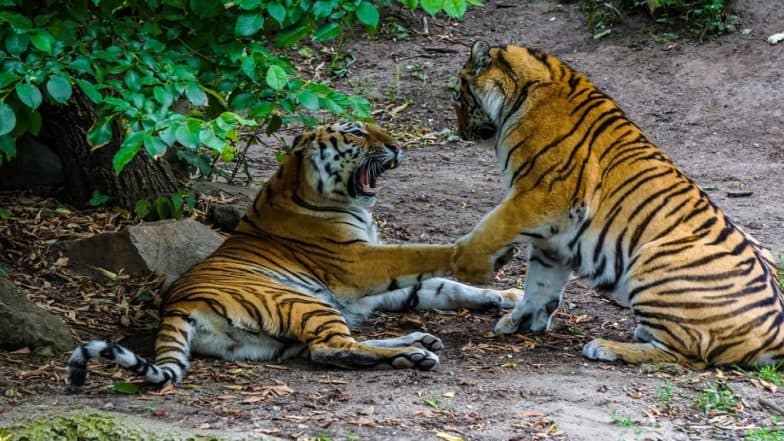 It is Valentine Week 2019 and everyone is celebrating love. But a supposed to be a happy love story for tigers went horribly wrong when an endangered Sumatran female tiger was killed in London zoo by another tiger. A new male tiger named Asim was brought in as a mate for the long-term resident of London zoo, Melati. The tigers were kept apart in separate enclosures initially, but they were introduced after a while. Instead of getting along, the tensions between the male and female aggravated. The fight turned worse and Melati ended up dead in the fight. White Tiger Kills Japan Zookeeper! Man Was Found Bleeding From the Neck Inside the Tiger's Cage at Hirakawa Zoological Park.
Melati was 10-years old and despite the best efforts of the vets in the zoo, she could not be saved. Asim was then immediately shifted to a separate paddock. The zoo did not expect the meeting to end up so fatal and was thoroughly disappointed by the turn of events. "Everyone at ZSL London Zoo is devastated by the loss of Melati, and we are heartbroken by this turn of events," said their statement. Endangered Sumatran Tiger Killed by Indonesian Villagers Fearing it to be a Supernatural 'Shapeshifter'.
Check London Zoo's Tweet on Passing Away of Melati:
Today our beloved Sumatran tigress Melati died while being introduced to new male Asim for the first time. Everyone at ZSL London Zoo is heartbroken by this turn of events. Tiger Territory will remain closed while our team focus on caring for Asim: https://t.co/KAoW0rziPN pic.twitter.com/CHcVKKMdz4

— ZSL London Zoo (@zsllondonzoo) February 8, 2019
Asim is a 7-year-old male who was shifted to London zoo as a part of the conservation breeding programme. He was brought in the zoo just a mere 10 days ago. The enclosures of the two tigers were next to each other so that they could smell and react to them. Asim was known for being an affectionate tiger with other tigresses in his life. The zoo had described him as "we're hoping he'll be the perfect mate for our beautiful Melati". But the turn of events was tragic and Melati passed away.
The zoo staff acknowledged that introductions of big cats is a risky task but experts said they noticed positive signs from both Asim and Melati. The pair on their first introduction seemed fine but soon became aggressive and soon Asim overpowered Melati. The team responded quickly to distract the pair but it was too late. The organization Tigers in Crisis says there are only estimated to be about 500 to 600 Sumatran tigers in the wild.