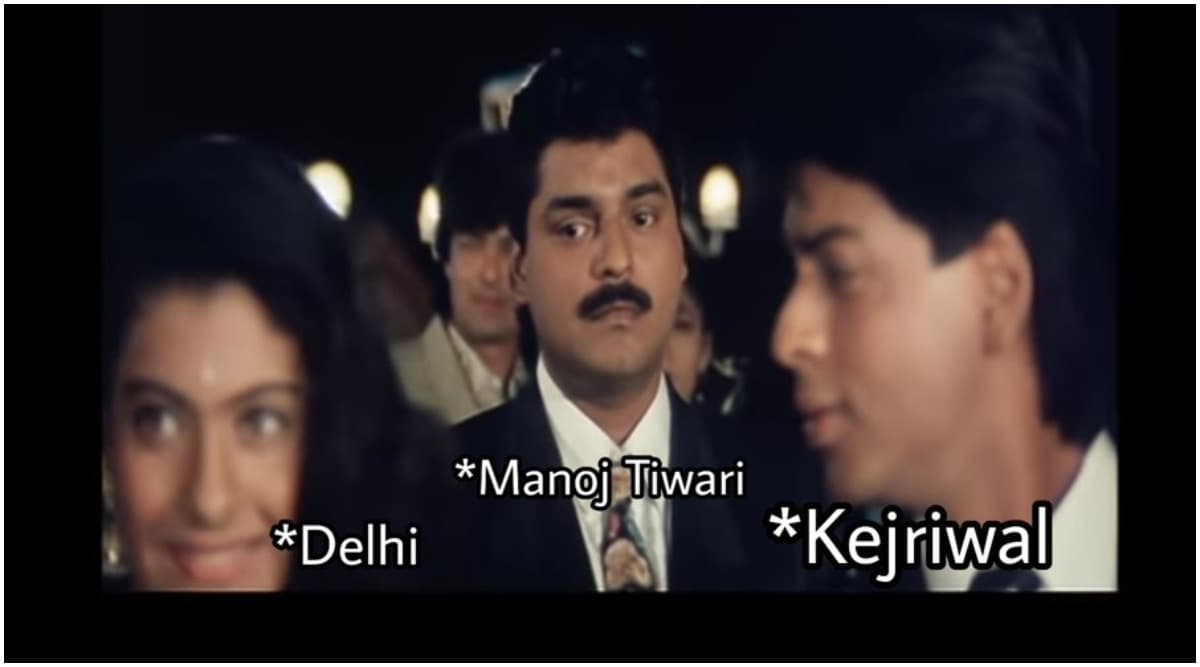 Who knew a simple still from Shah Rukh Khan and Kajol's 1993 release, Baazigar could make your day!? Of course, being a true blue SRK fan, the movie holds a special spot in all of our hearts but the way Arvind Kejriwal's Aam Aadmi Party just used one of its still to troll BJP politician and actor Manoj Tiwari is outright hilarious. For us, it's Shah Rukh Khan and Siddharth Ray eyeing Kajol but when it comes to politics, it's AAP and Manoj Tiwari eyeing the nation's capital, Delhi. Delhi Assembly Elections 2020: Chief Electoral Officer Issues Notices to BJP and AAP Over Violation of Model Code of Conduct, Says Report.
Delhi residents and politicians are currently busy prepping for the Legislative Assembly elections which will take place on February 8, 2020. While the political parties are obviously busy with their campaigns, AAP had a new way of grabbing everyone's attention by making a meme out of a Baazigar scene. The meme targeted at BJP's Delhi President and actor Manoj Tiwari soon received some hilarious responses from Indian National Congress and BJP's Twitter handles that you should check out right away.
Aam Aadmi Party's Tweet
All the best Sir @ManojTiwariMP pic.twitter.com/C9oTfInf7u

— AAP (@AamAadmiParty) January 12, 2020
BJP's Reply
Whoever is handling this account is writing Arvind Kejriwal's political obituary. SRK was a manipulative villain in the movie who was plotting against Kajol & her family. He killed Kajol's sister.

And, in the end, he got killed for his sins. Same fate awaits Kejriwal in Delhi! https://t.co/Bv2mTHBD2N

— BJP Delhi (@BJP4Delhi) January 12, 2020
Congress' Reply
Dear @AamAadmiParty & @BJP4India,

As you can see in the picture, Kajol (Delhi) doesn't seem interested in either of you and is actually looking towards Congress! We assure you that we will rescue Delhi from both of you. https://t.co/PTxzvNg40L

— Delhi Congress (@INCDelhi) January 13, 2020
While Congress was quick to point out that Kajol (Delhi in this case) is looking towards their party while ignoring AAP and BJP all at once,  BJP was swift to narrate the movie's storyline. According to them, the meme is Delhi CM, Arvind Kejriwal's political obituary and he will pay for his sins as SRK did in the movie. While this meme battle clearly got intense with a lot of participation, who do you think was able to outdo the rest? Tweet us your replies at @latestly.