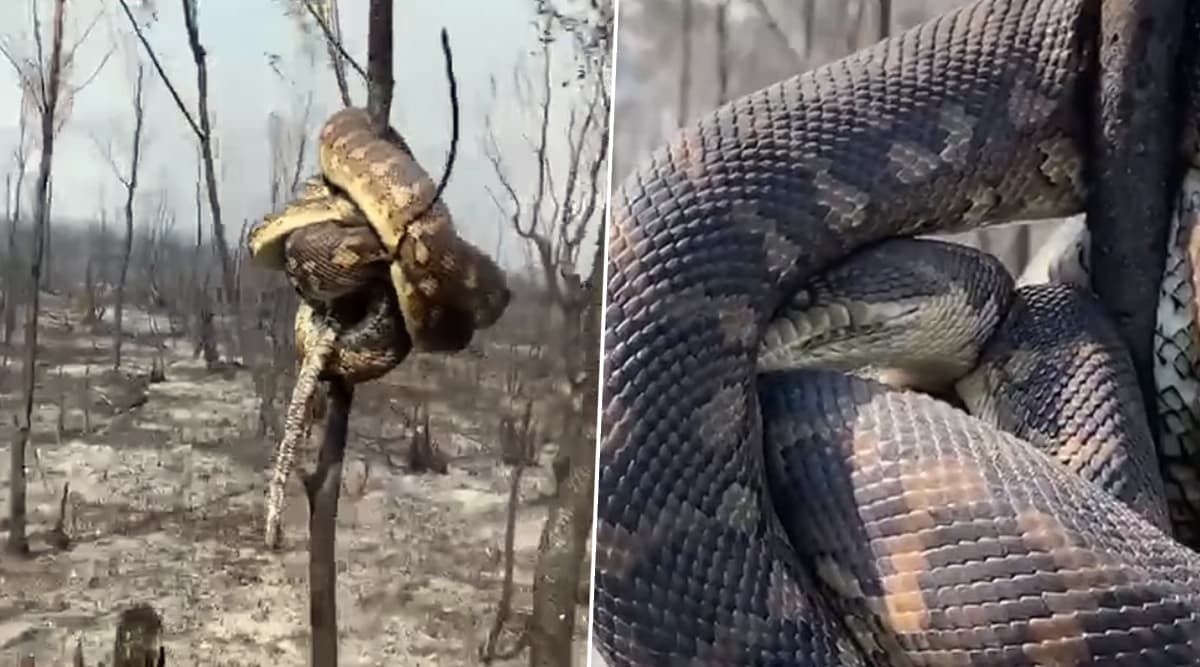 Australian bushfires have caused largescale devastations in major regions of the country. The death toll has reached six after the fires broke out last week. While humans are fleeing the region, the worst affected are animals. Pictures and videos of rescue operations being carried out to save these creatures are being widely shared on social media platforms. In the meanwhile, video of a giant snake clinging to the branch of a burnt tree to save itself from the burnt earth below has gone viral. The clip shows the reptile coiled up on the tip of branch keeping itself away from the heat of the fire. It was captured in Moreton Island of Australia. Queensland Bushfires: Australia State Declares Fire Emergency After 150 Homes Lost.
Jordan Booth who filmed the scene shared the clip on Facebook. Booth told Storyful, "The snake was definitely still alive and seemed to be okay however his tail looked like it may have been burned. We left the snake alone where we found it." Rescue teams are trying various methods to save animals struck in the wildfire. Also, a rescue dog had saved injured koalas from the bushfires.
Snake Clings on Burnt Tree During Bushfires:
The Queensland Fire and Emergency Service has issued evacuation orders for campers and asked residents to "prepare to leave". Authorities warned saying, "Follow your bushfire survival plan now. If you do not have a plan, your safest option is to leave now if it is clear to do so. If you are not in the area, do not return, as conditions are too dangerous. There is the potential for this fire to move unpredictably and it may impact campsites right across Moreton Island in the coming hours and days. The situation is expected to remain unsafe for a number of days."