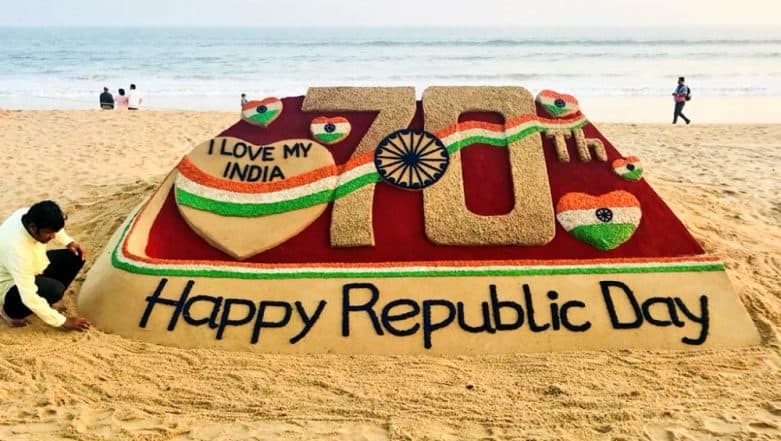 On Republic Day, international Sand artist Sudarsan Pattnaik has made a sand art wishing people of the nation. Sending 'Happy Republic Day' wishes on the national festival, the sand art has 70th written on it showcasing the number of years since 1950 the country became republic. Adorned with the colours of the national flag, it says ' I love my India.' Sudarsan shared the sand art he made at Puri beach in Odisha saying: 'Happy #RepublicDay2019 my Sand art at Puri beach in Odisha. #ILoveMyIndia'
On January 25th, Voters Day also the sand artist had made a sand art portraying the importance of voting. He tweeted a photo of the sculpture saying: 'On #NationalVotersDay my SandArt with the message, No voter to be left behind  at Puri beach Odisha.' Pattnaik often makes beautiful sand arts marking different festivals, events and occasions. Happy Republic Day 2019! From Politicians to Celebrities, People Send #70thRepublicDay Wishes on Twitter to Citizens of India.
Here is Sudarsan Pattnaik's Republic Day sand art:
Happy #RepublicDay2019⁠ ⁠ 🇮🇳 my Sand art at puri beach in Odisha #ILoveMyIndia pic.twitter.com/JjRr9XA55I

— Sudarsan Pattnaik (@sudarsansand) January 25, 2019
Last month, the eighth edition of the International Sand Art Festival which was organised in Odisha's Kornak saw sand artists from around the world in attendance. Patnaik who is the brand ambassador and chief curator of the event put up an impressive show based on different themes at the Chandrabhaga beach. Republic Day 2019 Images & HD Wallpapers for Free Download Online: Wish Happy Republic Day With Patriotic GIF Greetings & WhatsApp Sticker Messages on 26th January.
As India today celebrates 70th Republic Day, various events highlight the achievements of the country in the past seven decades will be held. The country's rich culture and heritage and the milestones we as a nation made will be showcased at different programs. We wish everyone 'Happy Republic Day'!