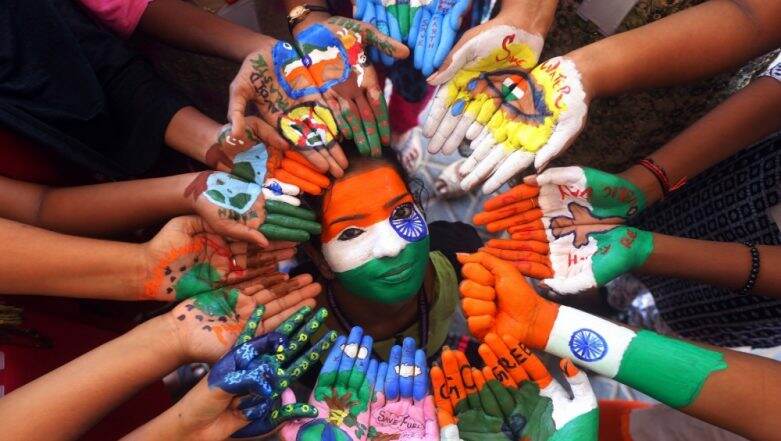 As India today celebrates 70th Republic Day, Twitter is overpouring with  'Happy Republic Day 2019' wishes. From politicians, celebrities, commoners everyone has taken to the social media wishing the citizens of India 'Republic Day'. Prime Minister Narendra Modi also took to Twitter sending Republic Day wishes to the people of the country. He tweeted both in Hindi and English saying: 'Happy Republic Day to all fellow Indians.'
Politicians including Omar Abdullah, Milind Deora, Poonam Mahajan, Lalu  Prasad Yadav took to Twitter wishing the country on the day. In New Delhi, like every year, the lanes of Rajpath has been filled with people waiting to watch the colourful parade marching down the road. For the first time in the history of Assam Rifles and also in the paramilitary an all women Contingent will be saluting the President this Republic Day. Republic Day 2019: 12 National Symbols of Incredible India & Their Importance That You Should Know.
Check out the tweets here:
Happy Republic Day to all fellow Indians.

सभी देशवासियों को #गणतंत्रदिवस की शुभकामनाएं।

जय हिन्द!

— Narendra Modi (@narendramodi) January 26, 2019
A total of 22 tableaux will be showcased at the event.
Let's stand united & celebrate the glory of our republic and feel proud of being an Indian. #HappyRepublicDay2019 #RepublicDayIndia pic.twitter.com/dYH9y9ZpRW

— Ravi Shankar Prasad (@rsprasad) January 26, 2019
The parade will be presided by the President of India, Prime Minister, ministers, top bureaucrats, VVIPs and others are also present at the occasion.
Wishing Everyone a Happy #RepublicDayIndia :-)

This day in 1950, Indian Constitution was ratified and the nation become a Country for the People, By the People and Of the People..

The Last step to come out of British Monarchy.. pic.twitter.com/kr3Dkjqrhe

— Ramesh Bala (@rameshlaus) January 26, 2019
This year South African president Cyril Ramaphosa will be the chief guest at the event.
Our republic is not about tolerating differences it's about celebrating differences, differences of religion, language, culture & political beliefs. Let's make 2019 the year we reclaim our republic #RepublicDayIndia

— Omar Abdullah (@OmarAbdullah) January 26, 2019
This year, the railways are all set to showcase its tableau at the parade depicting the "transformation of Mohandas Karamchand Gandhi to Mahatma Gandhi" and highlight the to-be-launched bullet train.
Our Constitution is supreme. Today, our Constitution & the idea of India are under serious threat. This #RepublicDayIndia, let's come together to protect the 1.3 billion voices that make up this idea of India.#गणतंत्रदिवस#HappyRepublicDay2019 #OneNationBillionIdeas pic.twitter.com/awUfIVcgoy

— Milind Deora (@milinddeora) January 26, 2019
Different events depicting the country's rich culture and heritage will be held across the country. Schools, colleges, government organisations and various other institution will hoist the national flag today. Various events showcasing the progress the country has made in the past 70 years will be held. Meanwhile, international sand artist Sudarsan Pattnaik has made a sand art on Puri beach in Odisha on Republic Day with 'I love India' written on ti. We wish everyone a 'Happy Republic Day'.