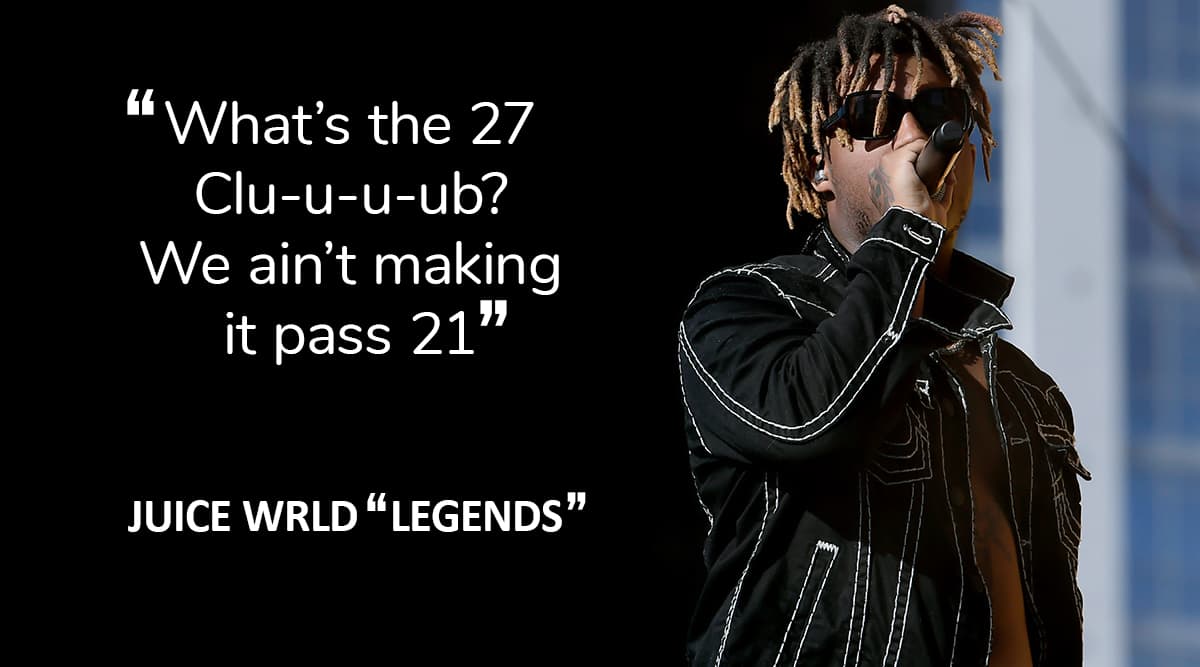 Fans across the world are mourning Juice Wrld's death, who suddenly passed away at the age of 21 last night. According to reports, the American rapper died "suffering a seizure in Chicago's Midway airport." However, fans are now relating several coincidences relating to his death. Followers claim that the rapper whose birth name was Jarad Anthony Higgins, said he would not live past the age of 21 in his song, Legends. They continue to point out the lyrics which goes, "What's the 27 club? We ain't making it past 21." This part of the song is at the moment surfacing on social media sites with Wrld's fans claiming that he predicted his own death. Rapper Juice WRLD, Promising Rap Talent, Dies at Age 21. 
On Legends which was released as a single, Wrld rap, "What's the 27 Club? We ain't making it past 21. They tell me I'm-a be a legend, I don't want that title now. 'Cause all the legends seem to die out, What the f*** is this about?" The 27 Clubs has the collective name for artists like Jimi Hendrix, Kurt Cobain, Amy Winehouse and Jim Morrison who died under tragic circumstances at the age of 27.
Check Tweets:
#JuiceWrld predicted his own fate..

this one really hits home 🐐💔 pic.twitter.com/LBz6HVwotU

— IZAYAH 💧 (@IzayahMartinez) December 8, 2019
'We Ain't Making it Past 21'
In his song Legends, it creeps me out that he just predicted his death

We ain't making it past 21

I been going through paranoia#JuiceWRLD

— Jayve Diaz (@drizzyjayve) December 8, 2019
Here's A Glimpse of His Song:
JuiceWRLD actually predicted his own death 💔😭 #RIPJuiceWrld pic.twitter.com/2wtcPPWdlO

— Ewan (@kerridgeewan01) December 8, 2019
Legends was written as a tribute to the rapper XXXTentacion, who died in 2018 at the age of 20. Aside from the song lyrics, fans are also sharing screenshots of Wrld's last tweet.
Here's His Last Tweet:
This life is yours do what tf you want do great things and change the world don't let no one tell you SHIT.. and you'll be bigger than "juice wrld" will ever be, and he's going down as a legend - Jarad

— . (@JuiceWorlddd) December 1, 2019
Juice Wrld's first significant success came in 2018 with the release of "Lucid Dreams." The single took him to hit the music charts that year. On December 2, 2019, Wrld turned 21 and died less than a week later. TMZ reported that Wrld suffered a seizure while walking through Chicago's Midway Airport after getting off a plane. He was conscious while transported to the hospital but was pronounced dead later.