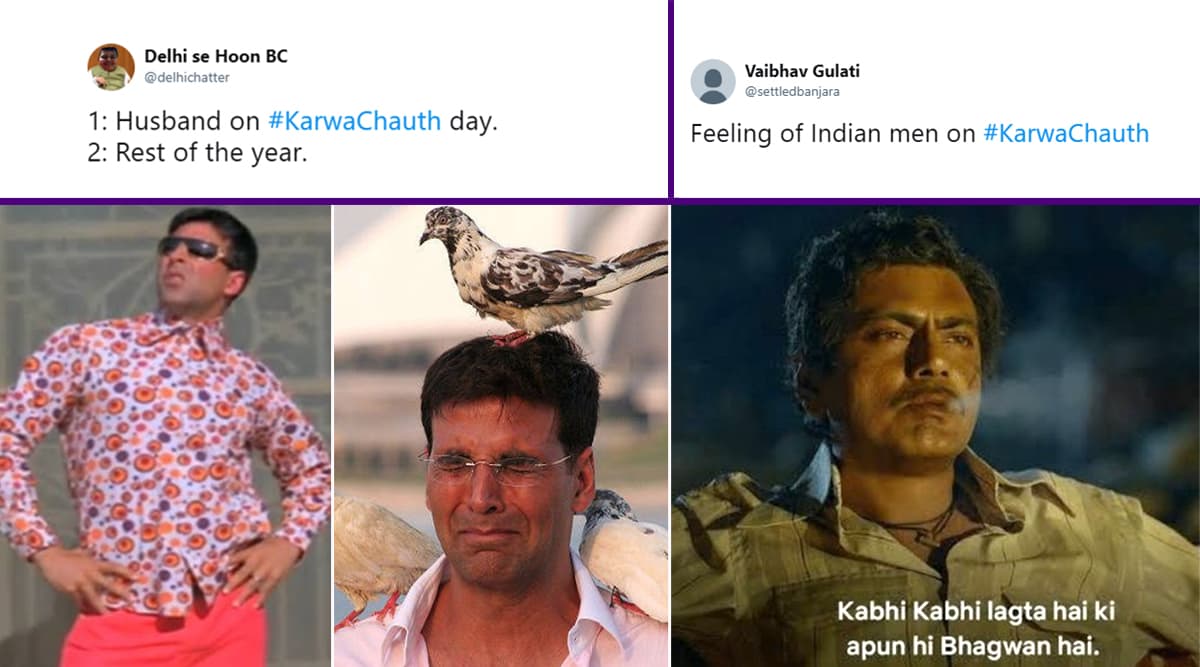 The festive celebrations of Karva Chauth are being marked today. Celebrated primarily in Northern India every wife keeps a strict fast for her husband, praying for his long life and prosperity. In some places, even a husband keeps the fast as a romantic gesture in return for his wife. But those husbands, who aren't fasting may have some troublesome time to go through as their wives wait eagerly for the moon to rise. In all humour, funny memes and jokes describing every husband's situation on Karva Chauth are trending online. From Akshay Kumar to Nawazuddin Siddiqui, famous Bollywood dialogues are used to describe the humour in the situation. Karwa Chauth 2019 Fasting Memes and Jokes: Here Are Funny Karva Chauth Vrat Memes That Will Leave You ROFLing While You're Hangry.
Karva Chauth Vrat has become so popular over time, that even unmarried girls keep a fast to pray for a good husband. Often girlfriends also keep a fast for their boyfriend to mark this festive day. It is one traditional observance which depicts love and sacrifice done for a partner. Husbands also buy a special gift for their wives and offer it after the fast is broken. While the festive vrat has its own traditions and rituals to it, there are funny memes and jokes doing the rounds online which describe a husband's situation. Karwa Chauth 2019 Vrat Puja Vidhi: Moonrise Timings, Shubh Muhurat and Rituals For Married and Unmarried Women to Observe And End Karva Chauth Vrat.
Every Husband Today!
My situation during #KarwaChauth pic.twitter.com/57MyX3dG3I

— Krishna (@Atheist_Krishna) October 17, 2019
Apun Hi Bhagwan Hai Moment
Feeling of Indian men on #KarwaChauth pic.twitter.com/yXIObYlkc0

— Vaibhav Gulati (@settledbanjara) October 16, 2019
Akshay Kumar is Always Relatable
1: Husband on #KarwaChauth day.

2: Rest of the year. pic.twitter.com/cgkJH0MWIp

— Delhi se Hoon BC (@delhichatter) October 17, 2019
Pehle Aap!
Dear loving husbands on #KarwaChauth be like : 😜#KarwaChauth2019 pic.twitter.com/ToW0h3bNTD

— 🔥 ∱∪ℕκγβαβα 🔥 (@nillkool9) October 16, 2019
Valid Explanation?
#KarwaChauth explained pic.twitter.com/htumHgVn0J

— Pakchikpak Raja Babu (@HaramiParindey) October 17, 2019
Be a Nayak of This Story
Indian wifes to their husbands 🤣#KarwaChauth pic.twitter.com/laqCfuumi6

— Delhi se Hoon BC (@delhichatter) October 17, 2019
Don't Take Risks
Women today, if husband is acting smart.. #KarwaChauth pic.twitter.com/9XvHO9ged7

— Kru (@Achari_Nimboo) October 17, 2019
If your partner/ girlfriend is fasting for this auspicious festival then we bet you'd have a good laugh. So share these funny memes and jokes with your fellow friends and share the fun spirit of this festival. We hope you are prepared with some gifts for your beloved partners when they break their vrat this evening. Wish you all a Very Happy Karva Chauth 2019!