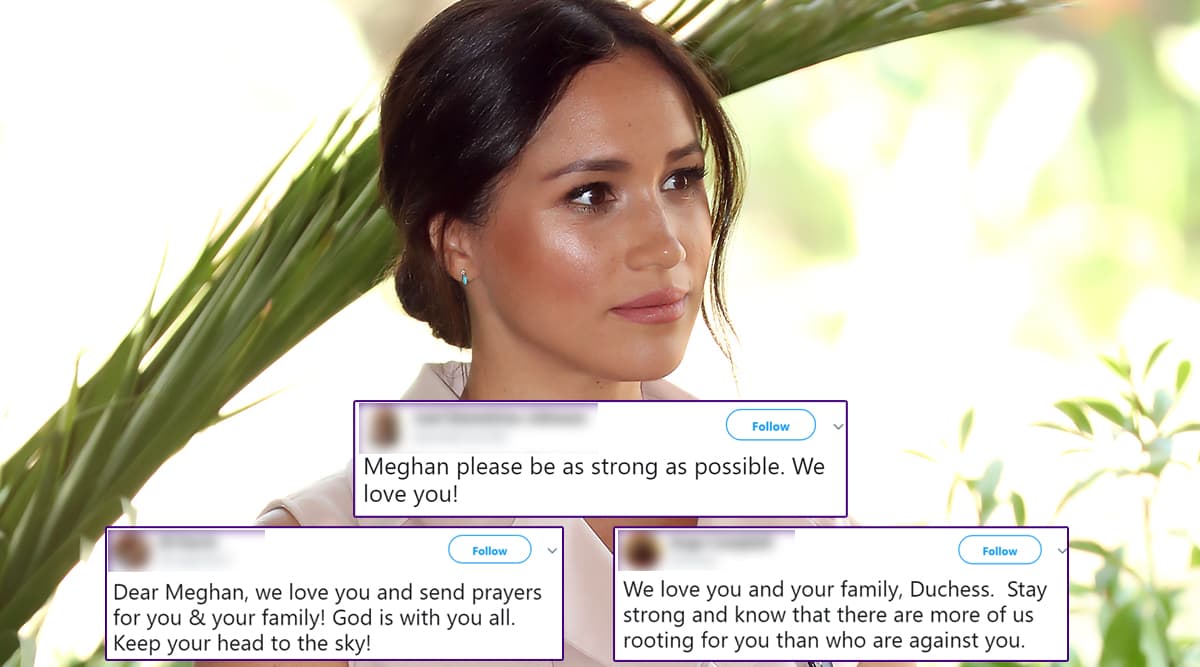 Ever since, Meghan Markle and Prince Harry exchange the vows; the world has not really been fair to the Duchess of Sussex. We have seen her adjusting with so many responsibilities. A new wife, member of British royal family, a mother and always on the intense spotlight among media. It is not easy! This is why she might have broken down when in a recent TV interview for an upcoming ITV documentary, Meghan was asked about the impact of public scrutiny on her. She was visibly holding back her tears while answering the question. Meghan's emotional interview went viral on social media. Fans were quick and sincere enough to shower their love. #WeLoveYouMeghan pours in support for the Duchess of Sussex and thousands of tweets accompanying the hashtag surfaced on social media. Meghan Markle 'Wants to Break the Internet'! Here's What Duchess of Sussex Has Planned. 
The upcoming ITV documentary follows Meghan and Prince Harry on their recent tour at Southern Africa. It also includes an interview with ITN News At Ten anchor Tom Bradby. She was asked about the impact on her "physical and mental health" for being on constant limelight and how Harry has been protective of her. To all these, Meghan replied, "Look, any woman especially when they are pregnant you're really vulnerable and so that was made really challenging, and then when you have a new born – you know. And especially as a woman, it's a lot. So you add this on top of just trying to be a new mom or trying to be a newlywed it's, well." Meghan Markle and Prince Harry Get a Surprise Gift for Archie and Duchess of Sussex's Reaction Is Priceless. 
"Also thank you for asking, because not many people have asked if I'm OK. But it's a very real thing to be going through behind the scenes," Meghan added.
Watch the Viral Video:
In a world where we are taught to "put on a brave face", this to me is what true bravery looks like. #WeLoveYouMeghan pic.twitter.com/xn9ziaC5iz

— Ryan Knight 🗽 (@ProudResister) October 18, 2019
As the short clip from the video appeared on Twitter, there had been thousands of tweets under the hashtag with fans hoping that the Duchess sees the positive comments. According to the report, it was British author Greg Hogben who urged people to share their support for Meghan. And fans have been all kind and fair.
Fans Come in Support With #WeLoveYouMeghan:
#We love you Meghan #

Dear Mama Sussex, please know that you are so loved, I know for a fact that my homeland South Africa, they fell in love with you guys. You are poised, articulate, well read and well traveled. You and Harry are so perfect for each other. Stay strong 🥰💕💪🏽👍🏽

— SuzyMoore75 (@MantininiM) October 20, 2019
Be Strong Meghan!
Meghan please be as strong as possible. We love you!

— Joel Demetrius Johnson (@joeldjohnson86) October 20, 2019
How Adorable:
We love you Meghan yes we do and Nik was very very sad to see you so sad.

He said mum I read the papers they were very very cruel and big bullies.

So we are saying Leave them alone as you quite rightly said they are a https://t.co/6uV0D7FGF3 is a mess right now alot of hate atmo pic.twitter.com/66kaBK2Q1Z

— Nik (@nicktubechannel) October 20, 2019
More Support:
It's no shock how Our Girl is being treated. We know why. While a hate campaign is being waged against her I just want her to know that she is loved. We love you girl! Never doubt that! Stay 10 toes down. Never fold. We lost Lady Di. We not losing Meghan 2 #WeLoveYouMeghan pic.twitter.com/ZMNffE7TL7

— Le Creep McGee (@Lucky_Lamon) October 19, 2019
We Sure Do!
We love you and your family, Duchess. Stay strong and know that there are more of us rooting for you than who are against you.

— Ange Campbell (@IrieAng) October 19, 2019
This interview came after reports emerged that the Duke and Duchess of Sussex will take six weeks off from Royal duties for some "much-need family time." The couple is expected to spend their first Christmas with their son Archie who was born in May, with the Queen and other members of the royal family. We only hope that the break gives the pair some peace and more courage to do their social responsibilities and facing the haters bravely, as they have always done.